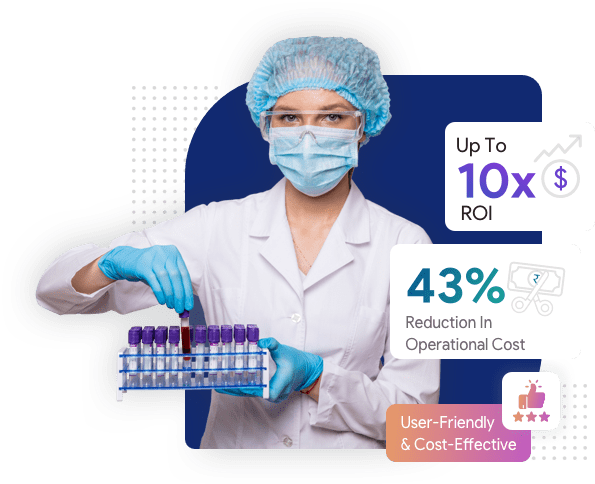 Highest Rated LIS System, with
92%
Average Satisfaction Score Worldwide
Best
LIMS Software

With Complete

Lab Automation

& Future-Ready Solutions

Our LIMS software automates crucial steps in your lab to boost productivity. So from the front desk to reporting deliveries & managing every crucial lab information through the Laboratory Information Management System is easier.
Highest Rated LIS System, with
92%
Average Satisfaction Score Worldwide
Every Step Of Your Testing Lab Operations Is Better With CrelioHealth LIMS System
Our feature-rich Laboratory Information Management System can help reduce your turnaround time. It offers a wide range of benefits for your lab business. Learn more about the LIMS system benefits for each step of your sample journey
All Your Patient Bookings In One Place
Automate all front desk procedures from registration to sample collection. Manage lab workflows end to end and uninterrupted for all orders from a single place. Configurable forms, automated communications, online payment integrations, and more offer a seamless experience to your B2B and patients.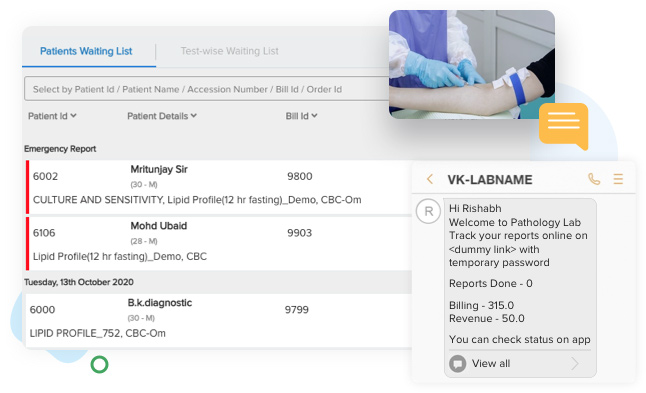 Configurable Forms For Patients & Orders
Email, SMS & WhatsApp Communication To Patients
Multiple Configurable Rate Lists
---
Tap & Collect Samples With Process Automation
Collect samples at order requests. You can also physically collect them in a standardized manner using the B D vacutainer guide, collection guide & instructions. Collecting samples at the center is just a tap away with sample automation & preset facility.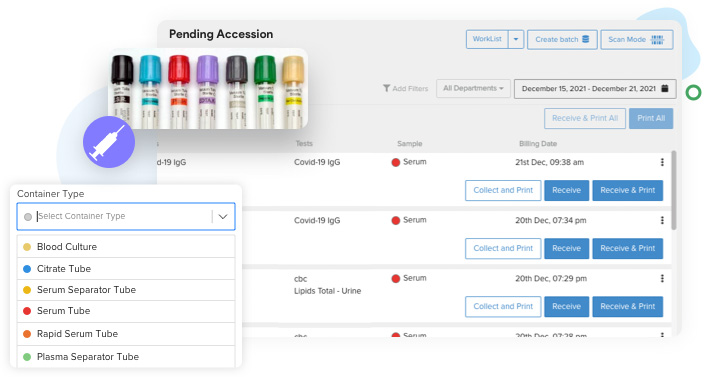 Collection Vacutainers Based On Test & Sample Type
Define Collection Instructions For Your Staff
Prompt Important Instructions For Critical Tests
---
Ease Your Test Sample Accessioning
Print & label samples with barcode labels to identify, segregate, outsource, and archive samples. Decide which samples you want to receive or reject based on your quality criteria. Scan directly to receive it at any location.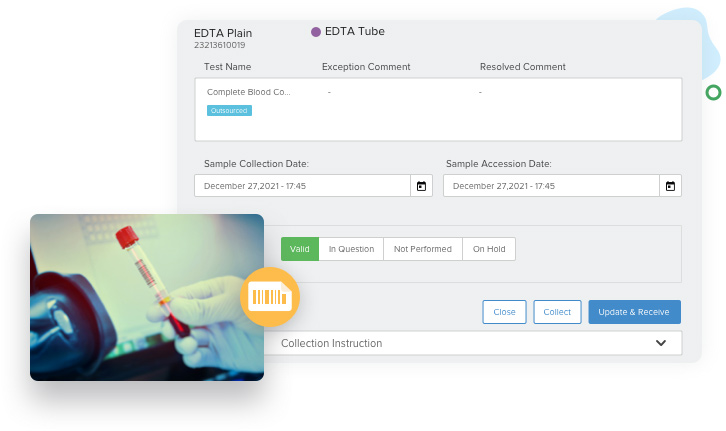 Sample Barcoding
Segregation & Quality Checks
Scan To Receive Samples
Automate Sample Archival
---
Lab Sample Management Software Streamlines Processing
Organize and automate sample processing, resulting in faster and more accurate lab testing while also saving on operational costs. Lab sample management software helps in tracking samples and effective turnaround time management.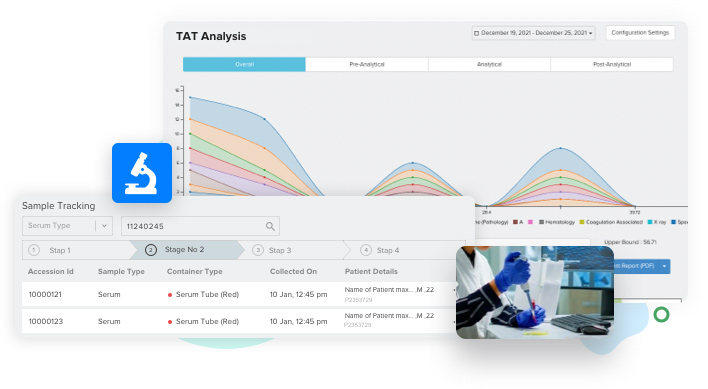 Batch Processing
Sample Process Tracking
Turnaround Time Management
Complete Process Automation
---
Quick & Easy Lab Reporting
Speed up the test report entry process with fast and easy-to-use reporting. So, you get all the relevant patient information in Laboratory Information Management System (LIMS Software) necessary for reporting.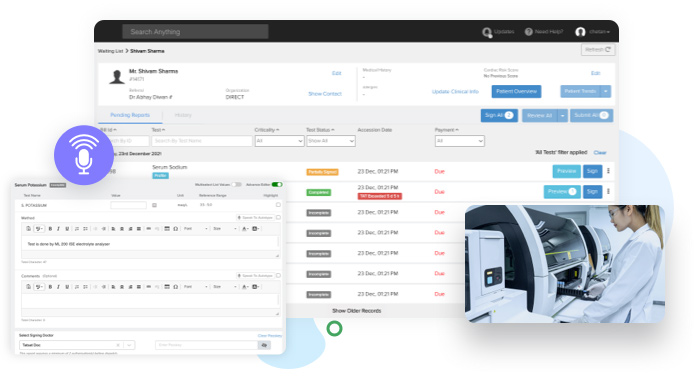 Automated Reporting Using Interfacing
Multiple Templates For Tests
Bulk Entry Of Report Values Using Excel
Speech To Text Report Entry
---
Secure & Reliable Lab Report Approval
Make sure your patients receive accurate lab reports by implementing a robust approval process, while still ensuring timely delivery. Allow signing doctors to sign & validate reports using secure logins on the LIMS System or through the dedicated App For Doctors.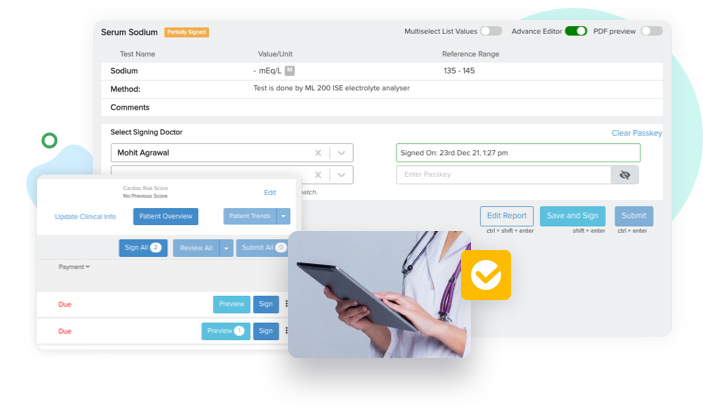 Conditional Automated Approvals
Multi-Approval Process
Approve Reports On The Go
---
Make Sure Lab Reports Are Delivered On Time Every Time!
Have reports delivered to patients and providers with ease right when they are ready. Keep track of lab reports which are dispatched and take actions on improving report delivery time.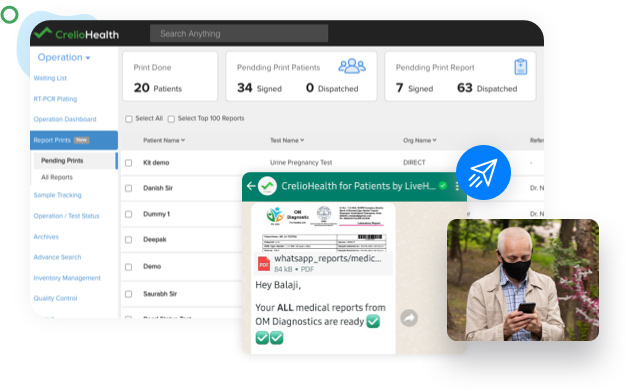 Automated Report Delivery
Read Statuses For Delivered Reports
Bulk Report Print And Download
Streamline Your Laboratory Finance With LIMS Software & Have Better Visibility & Control
Improve the financial control with the best LIMS System that is linked to your service delivery. This enables the usage of just one single application to handle all your operational needs
Test Bookings & Payment Collections
Collect your payments online or offline and maintain instant records. Manage your report deliveries or due collections automatically for your orders in the LIMS System. Integrate online payment collections and generate auto-invoices for smooth transactions amongst B2Bs and patients.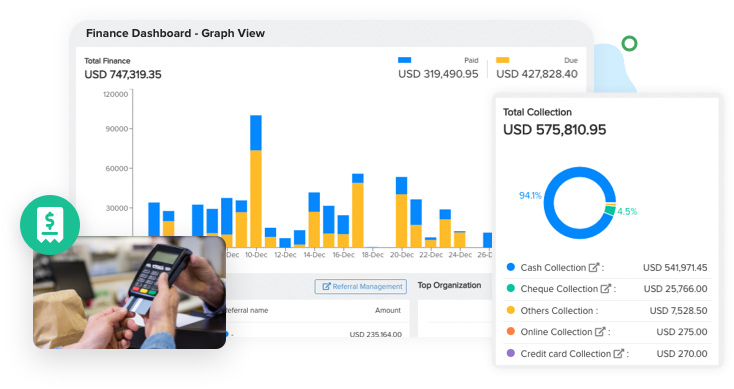 Online Payment Collections Integrated
Capture Offline Payments On Order Booking
Configure Workflows Based On Payment Status
---
Integrate With Claims Generators & Clearing Houses
Capturing payments is not enough when you have to generate claims. We offer an off-the-shelf integration with the most common RCM vendors. So you can auto-generate claims by capturing the results of the claims right on the portal without delay.
Don't see your vendor mentioned below! no worries, we'll still integrate it for you.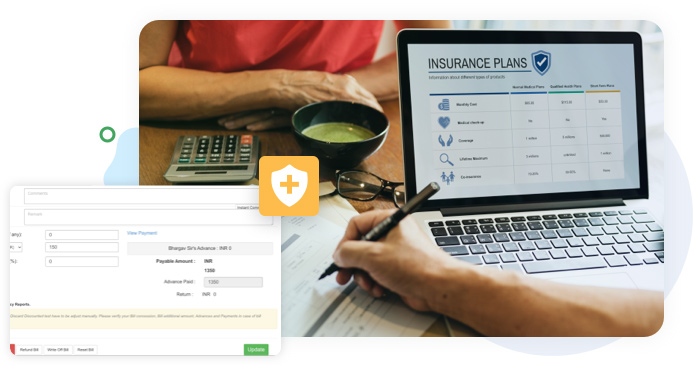 Integrate Instantly To Auto-Generate Claims
Supports HL7, SFTP, And Many Other Types Of Integrations
Capture Results Of Claims On The Portal
---
Test Prices & Discounts
Manage pricing for different sources of business and for all departments, outsourcing centers, and B2Bs. Handle seasonal pricing easily from one single central location. Our lab billing software sets control on conditional and other discounts for all centers and B2Bs and approves them with OTP.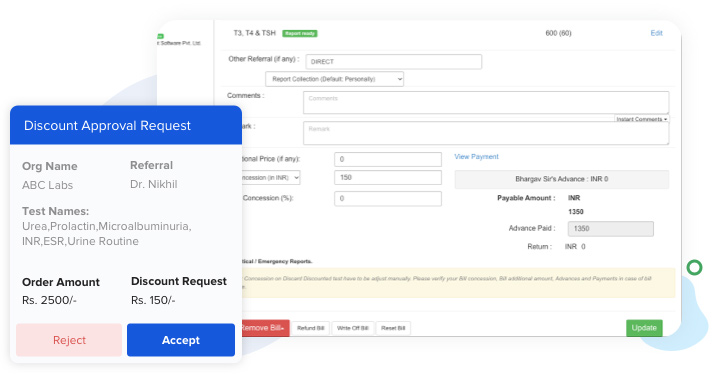 B2B Rate Lists
Conditional Automated Discounting
Discount Approval Via OTP
---
Lab MIS Reports
Business summary across multiple locations is available as an MIS, Excel & PDF with a click. Manage accounting End-Of-Day balances and daily collections efficiently with MIS reports. They are easy to search, filter, export & share through the LIMS System.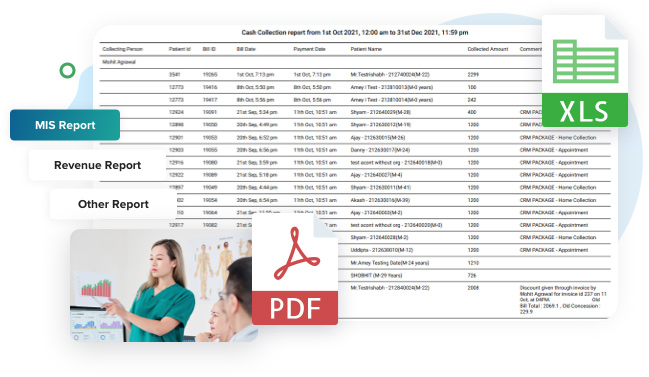 Manage Daily Collections
Consolidated Summary Reports
---
Laboratory Finance Analytics & Insights
Get a hold of all your finances and keep track. CrelioHealth's cloud-based LIMS System helps you make better decisions by giving real-time insights. The system provides real-time updates on financial data, transactions, and other information in run-time. So, that you can make quick, informed decisions for your business.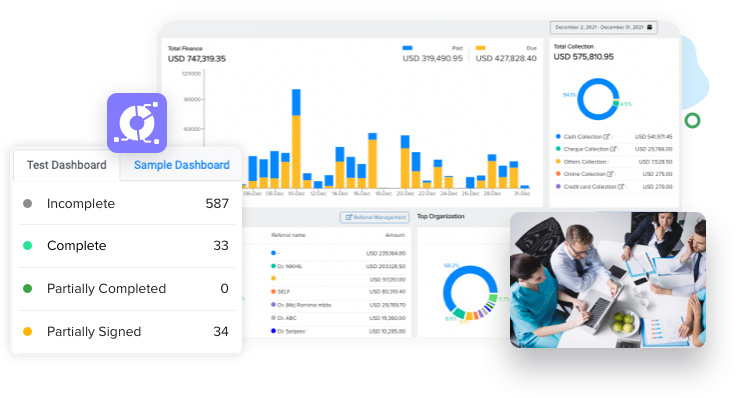 Real-Time Dashboards
Performance And Comparative Reports
Operational And Financial Analytics
Laboratory Information Management System (LIMS) That Audits Everything, Controls Leakages & Drives Up Quality
Managing a successful business is hard. CrelioHealth LIS System's admin tools make administration easier than ever. You get to manage & monitor the pulse of business easily from our pathology lab software. We help you keep up with the quality, ease audit with controlled access, and improve accuracy & productivity on the go.
Intelligent Cloud-Based LIMS System That Offers Lab Automation At Scale
Our focus on intelligent lab automation enables our customers to deliver more with less. Reduce redundant tasks, and speed up delivery time to reduce costs.
What Our Customers Often Say
About Our Laboratory Information System (LIS Software)
LIMS software provider that has a helpful and polite staff, with usually fast response times to our queries. Willing to go on calls and listen to our requests.
Laboratory information system (LIS software solutions) that has a user-friendly interface with 24/7 technical support offers.
Time-saving, operation timing minimize with this LIS system, also helpful to analyze the day-to-day finances, and MIS reports.
CrelioHealth LIS system has improved my business performance and reduced errors by 90%.
Scheduling & inventory problems are being solved by the CrelioHealth laboratory information system for our business at the moment.
This LIS system has helped streamline operations, improve reporting, and ease financial burdens.
User-friendly and easy-to-use lab information system. With a lot of options to incorporate or personalize the reports. Superb support.
Creliohealth cloud-based LIMS offers flexibility in working with the customer.
CrelioHealth LIMS system has to help us to automate our communication with our customers. This saves a lot of time and resources.
User-friendly & helpful pathology lab software. It fixed problems related to reporting & duplicate patient entries
CrelioHealth pathology lab software gives prompt service, the best support, highly knowledgeable, and very competitive prices.
Needed a LIMS system that is fast and easy to implement & use. This is the biggest challenge labs face. CrelioHealth turned out to be the solution to this problem. You can count on it for high-volume business.
CrelioHealth pathology lab software has solved the manual process of registration with QR codes.
The best pathology software CrelioHealth has exceptional and dedicated personalized customer service. I get all my patient's labs transferred to EMR and do not worry about chasing papers.
The Laboratory Information System's user control features are great, especially the revenue stream monitoring and timely system updates.
The laboratory information system offers functionality that allows us to register patients, order tests, and sample accession. It also allows QC/sign-out results, & distributes pre-formatted or custom result reports to ordering providers.
Outgrow Your Business With The Most Trusted & Best Pathology Lab Software
Contact us and we will demonstrate how our best Laboratory Information System Software will improve your business