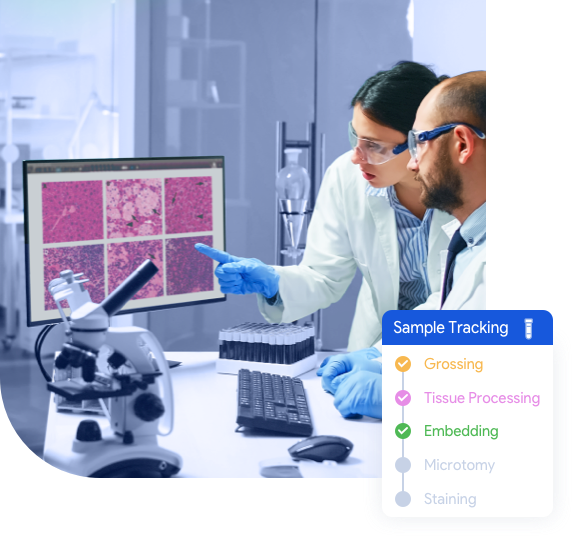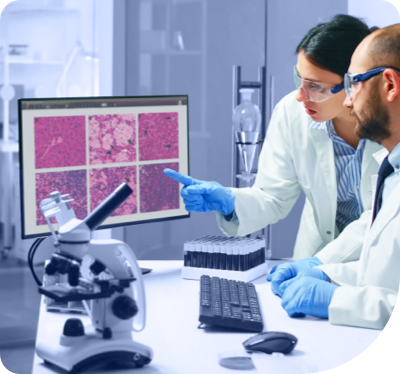 Leading the Way in
Anatomical

Analysis With CrelioHealth

Transform your anatomical processes with best-in-class solutions and reduce manual efforts at testing without compromising on the turnaround time.
Improving Anatomic Testing With Better Systems
Multi-Stage Sample Management & Tracking
Step out of the complex workflows that involve several stages of specimen processing, testing, and reporting with multi-stage specimen preparation and tracking to prevent errors, delays, and inefficiencies in the testing process & patient care.
Custom Reporting & Management
Generate error-free results in bulk all using digital data handling, automated solutions and customizable reporting tools that prevent paper management, errors and delays across the reporting process.
Faster Communication & Collaboration
Effective, quick and encrypted communication and collaboration prevents delays in specimen processing and reporting, enhancing patient care. Ease multi-stakeholder communication and collaboration for different departments and stakeholders.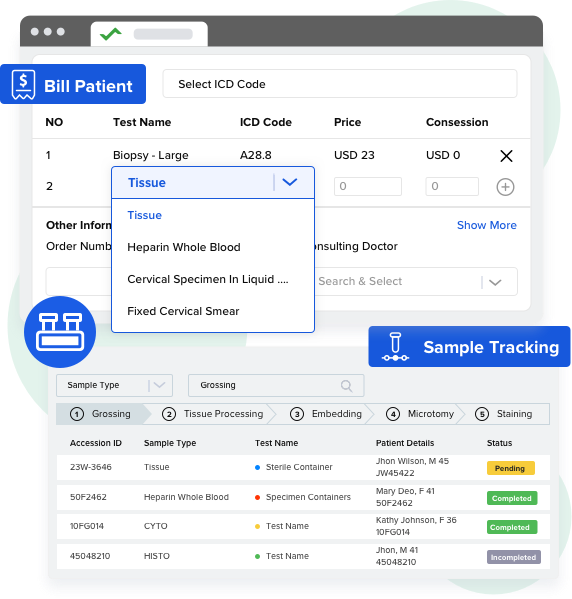 Smooth Specimen Preparation With Standardization
Standardize all specimen processes with preset collection, labels, and digitization to make specimen preparation and tracking super easy.
Specimen Type Selection
Assign appropriate specimen type at the time of collection and booking to the same test from multiple specimen type options for accurate & reliable test results.
Special Barcode Printing For Slides
Generate special barcode labels for easy identification of slides in anatomic testing that makes specimen tracking easy.
Multi-Stage Specimen Tracking
Track specimen information, status and studies at every stage of sample processing.
Specimen Archival
Automate specimen placements in archival, enabling easy tracking for research and studies.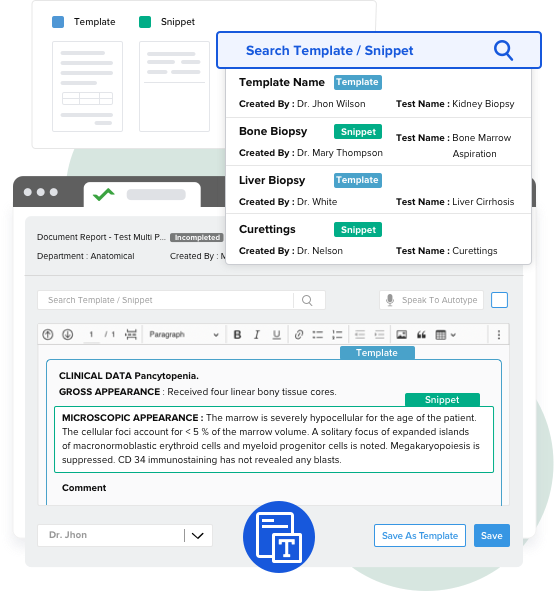 New-Age Reporting Capabilities
With multi-stage specimen learning involved, simplify reporting and collaboration processes with automated tools, dynamic snippets, and other customizable benefits.
Easy To Configure Report
Configuration of report formats is just a few clicks away. Have a high-end experience in on-site and remote reporting to technicians and pathologists.
Dynamic Templates & Intelligent Snippets
Leverage report customization ability with dynamic templates & intelligent snippets to make reporting more intuitive and easy.
Ability To Add Images To Reports
The ability to add microscopic images and findings from slide studies to reports eases collaboration with multiple technicians and pathologists while reporting.
Speech To Text Reporting
Fastrack the report-making process with speech-to-text capabilities for every step of multi-stage reporting.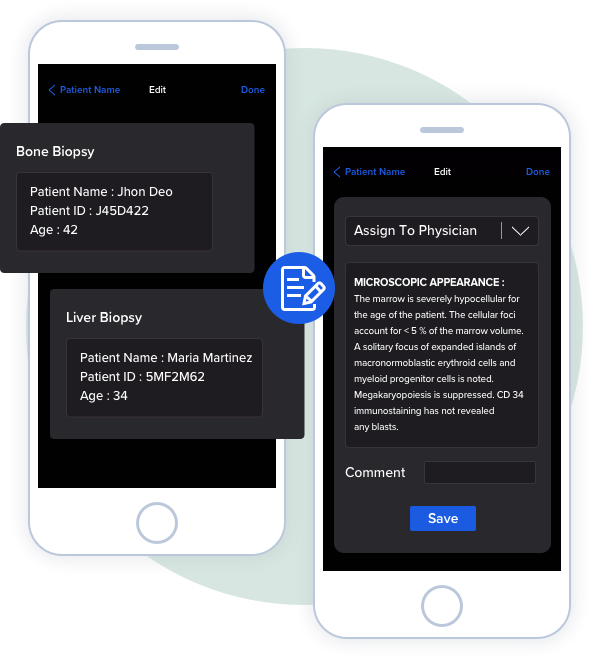 Digital Report Collaboration & Approval
Get rid of hand-written reports at every stage of testing and manual report collaboration with auto-assignment, management and remote reporting benefits.
Doctor Assignment & Management
Easily assign doctors for specific cases, verify doctor-approved reports, and count and track revenue from one source.
Remote Reporting
Report from multiple locations without the need to navigate back and forth, which can cause reporting delays. Make tele-reporting incredibly easy and convenient.
Audit Trails For Report Changes
Track and audit all report inputs and modifications for every reporting stage through a unified interface.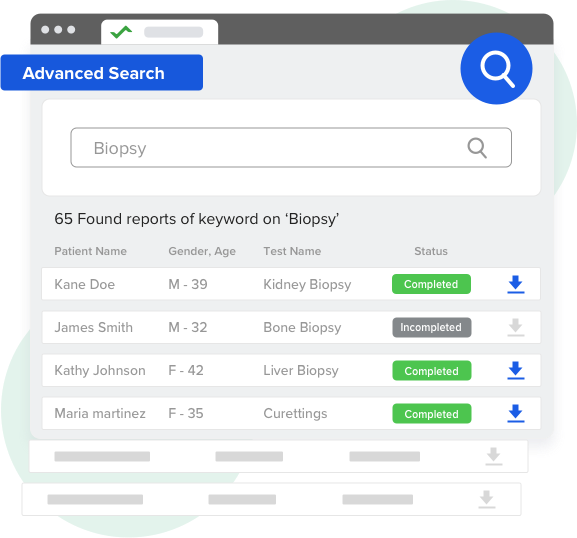 Facilitate Uninterrupted Analysis & Report Studies, All the Time!
Improve processing, findings and studies over a wide range of demographics, using specific search terms and keywords with advance search, filters and analytics.
Report Keyword Search & Analysis
Robust keyword-based search function enables laboratory staff to search for patient data based using specific keywords or phrases. Ease searching and locating specific patient data that is accurate.
TAT Analysis
Trace bottlenecks throughout the operational and specimen processing stages with real-time TAT analytics.
More Benefits
Group-Based Batching of Samples
Specimen Barcoding
Scan In Scan Out At Specimen Stages
Provider Portal
Ordering Portal For B2B Clients
Inventory Management
Here's what our customers say
CrelioHealth is very detailed and very informative, CrelioHealth makes almost all of the processes more accessible, and it makes sure that you will get all the information that you will need. It is one of the best cloud-based LIMS available.
In our experience, the best thing about working with them was always having someone available to talk to and help answer questions. They offer different forms of communication so that its easy to get in contact with someone and they answer quickly.
Adaptable and easy to use. The integration team is very knowledgeable about their product with quick responses and easy to work with. They are adaptable and sensitive to the needs of their customers.
The best part was being able to communicate with everyone through an app. What's app made it easy for me to ask my questions instead of waiting for email replies.
CrelioHealth have all features a lab need, very reliable, excellent customer support, user friendly, fast, no surprises, and very secure. Thank you CrelioHealth.
Explore more ways to use creliohealth
Make Your Anatomic Lab Processes More Effective With Automation
Experience the Benefits of Our Solutions for Your Anatomic Pathology Lab.
Contact Us for a Demonstration