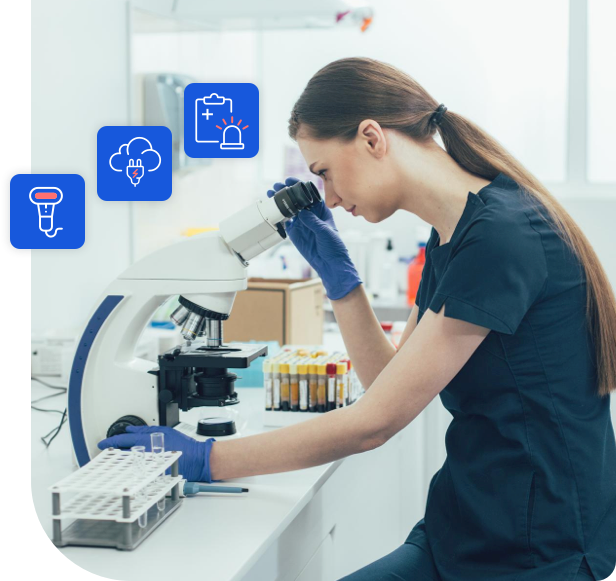 Improving Efficiency And Accuracy In
Hematology Labs
Transform your hematology processes with best-in-class solutions and reduce manual efforts at testing without compromising on the turnaround time.
How CrelioHealth Eases All Hematology Lab Processes
Automating Manual Data Entry & Transcription To Avoid Errors
Save efforts & errors in manual entries, manual record searching, right from booking, payment collection, to report delivery and beyond.
Enabling
Quality Control
Ensure your lab is performing tests accurately and reliably, with consistency in test results and meeting the required standards.
Meeting The Optimal
Reporting TAT
Get timely test results to make informed decisions about patient care and avoid serious consequences that can occur due to delays or errors.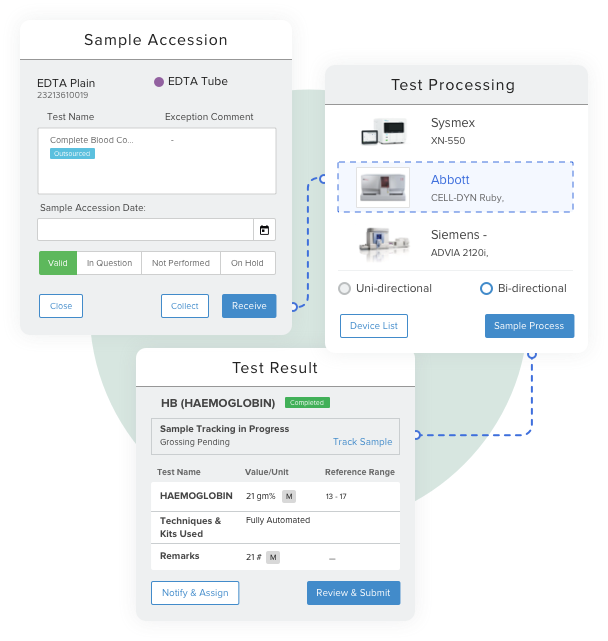 Error-Free Operations & Result Management
Streamline your operations and result management with new-age solutions to avoid delays and manual errors at every step of your lab processes.
Sample Accession
Collect, manage and acknowledge sample throughout its journey in a standardized approach using sample automation and tracking solutions.
Pre-Configured & Automated Workflows
Control the turnaround time and reduce errors at every step of haematology testing with pre-configured and automated lab workflows.
Reliable Equipment Interfacing
Leverage uni-directional or bi-directional equipment interfacing with the system to generate error-free results.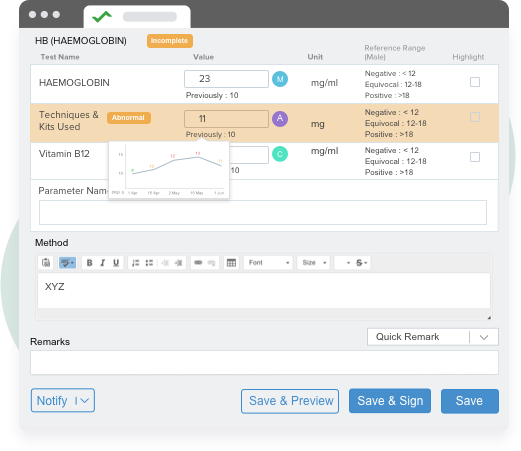 Next Gen Reporting
Spend minimal efforts at reporting using smarter and easier approach with multiple options for formats, templates and localization.
Configurable Report Templates
Choose from pre-configured report templates or create your own report templates with branding and other essential details about your lab.
Smooth Report Entry UI
Manage reporting faster than ever with smooth report entry UI that is easy and super flexible to use for your staff.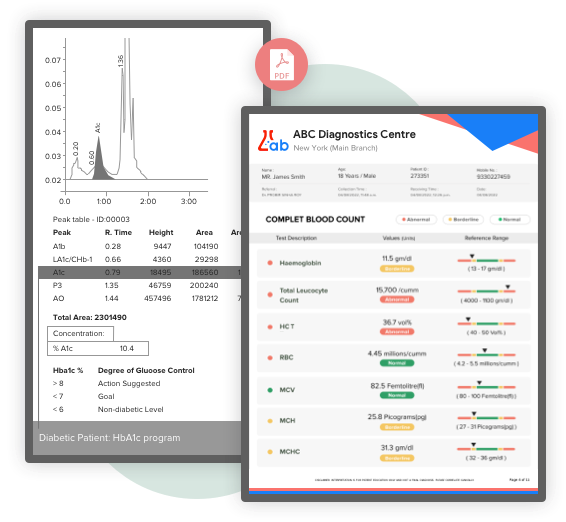 Make Reports Smarter To Read & Interpret
Offer doctors and patients comprehensive understanding of every report with simple explanations, graphical representations, color codes, value added tips and much more.
Historical Charts & Trends
Allow pathologists and providers to understand reports better with meaningful representations, historical charts and trends through a series of patient reports.
Smart Reports
Offer more than just quantitative and qualitative representation in patient report with smart explanations about health data, do's and don'ts, health advice and more through smart reports.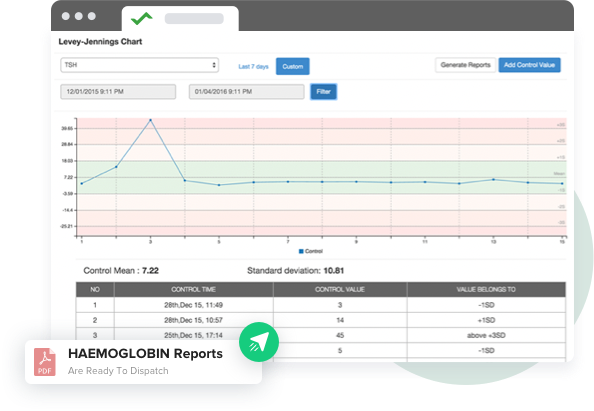 Scale Reporting Without
Compromising On Quality
Ensure high quality, faster and actionable reporting everyday with effective quality control.
Auto-Approval
Enable auto-approval for reports once they are validated to prevent delayed TAT at reporting.
Quality Control
Approve test results automatically that fall within the normal range and reduce the workload of lab staff and doctors.
Alerts For Rejection/Redraws
Send instant alerts and notifications to patients in case of sample rejections and quickly schedule to redraw.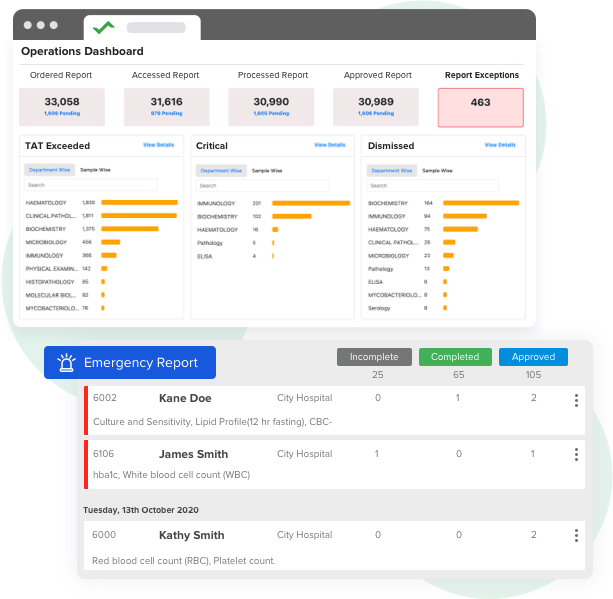 Smart Decision Making With Analytics
Make better and smart decisions on the go with meaningful information in the form of analytics that are vital to your daily operations.
TAT Analytics
Monitor delays in real-time and optimize pre-analytical, analytical and post-analytical turnaround time.
Operations Dashboard
Know about completed, incomplete samples, TAT-exceeded tests, machine throughput and monitor workflow delays in real-time using the dashboard.
Critical & Emergency Highlights
The system highlights emergency reports and reports critical values to ensure prompt action is taken to resolve issues, improving patient care.
More Benefits
Third-Party
API Integrations
Detailed
Worklist
Inventory Management
Mobile App For Lab Management
Barcoded
Sample Labels
Sample Archival
Here's What Our Customers Say
With CrelioHealth, the seamless experience in registration, sampling, operations and communication becomes effortless with the lab and the patients.
We absolutely love the SaaS model that CrelioHealth have taken, this allows new labs such as ours to scale their operations sustainably.
CrelioHealth is very detailed & informative. It makes almost all processes accessible, making sure you get all the information you need. It is one of the best cloud-based LIMS available.
Explore more ways to use creliohealth
Boost The Efficiency Of Your Hematology Lab
Experience the power of automation to scale the accuracy of hematology tests in your lab. Connect with our expert and know how our solutions can transform it for you.