A Comprehensive Suite For Exceptional
Patient Care
Empower patient satisfaction with end to end tools that simplify your patient journey. From auto order capturing
to quick report delivery, our Patient Suite makes patient service delivery a great experience for you.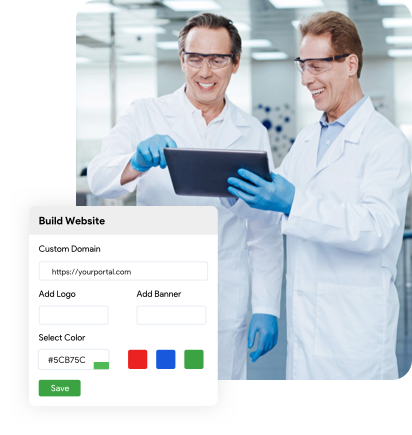 Personalized And Built For Clinical Labs
Step into a new era of patient experience and clinical lab management
Deliver A Holistic Patient Experience
Enter the era of clinical lab management with CrelioHealth's solutions tailor-made for labs to capture orders seamlessly, optimize scheduling, and effortlessly manage your online offerings from a single solution.
Unlock Remarkable Efficiency
Eliminate manual tasks with seamless automation that simplifies complex workflows, optimizes resource allocation, and boosts productivity to unprecedented levels. Embrace streamlined operations and achieve success.
Empower Growth And Scalability
Experience our cutting-edge platform, crafted to meet the unique needs and challenges of Direct-To-Consumer Labs. Prepare to unlock your lab's true potential and provide unparalleled patient experiences.
The One-Stop Order Management Solution For Clinical Labs!
Integrate Orders from different systems
Capture orders directly into your LIS from third-party tools or various lead sources, hassle-free. Simplify workflows, save time and effort and focus on what matters the most for exceptional service delivery.
At Home Testing
Simplified
Simplify home collection management and shipping of self-testing kits without the need for a separate tool. CrelioHealth's innovative system makes sample management a breeze.
Branded
Patient Portal
Easy appointment bookings, tracks lab test progress, provides secure logins and safely stores medical history. Conveniently access reports from anywhere and boost patient experience.
Streamline Processes Across The Order Journey And
Eliminate Redundancy
Capture Orders
Capture orders directly from an aggregator platform, website or any other third party tool.
Collect Online Payments
Allow patients to pay for the services online and view their reports instantly on the portal or the patient app.
Set Auto-Alerts
Send test-related notifications or alerts to patients through SMS, email, patient portal and app.
Submit Insurance Claims
Submit claims directly without any hassles with our seamless system integrations.
Dispatch Reports Digitally
Auto dispatches reports digitally to patients via our customized portal or other communication channels.
End-To-End Self-Testing Kit Management
Capture
Patient Orders
Simplify the process of capturing orders for at-home testing kits and collect all relevant patient details and shipping information directly into the LIS.
Patient
Kit Activation
Effortlessly send activation codes to your patients. Provide crucial instructions on how to collect and activate samples precisely. Get accurate sample collection time for simplified workflow.
Improved
Sample Reception
When patients ship their samples back, important details like the sample ID and collection time are automatically preloaded to eliminate manual entry. Start processing reports right away.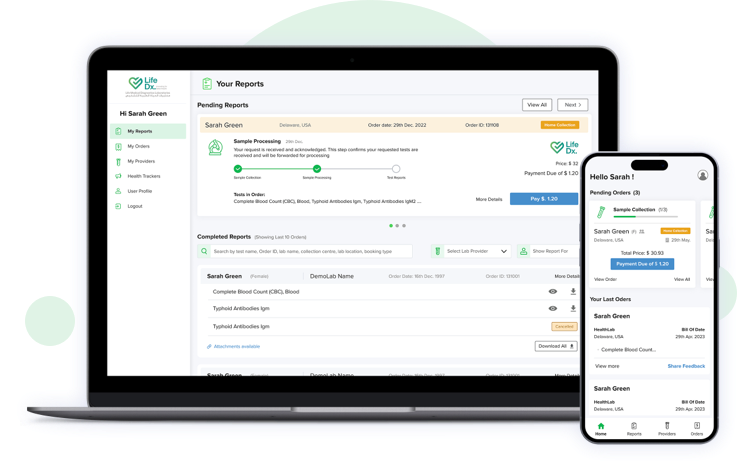 Your Patient Portal And
Patient App
Offer Patients Secure Access to Digital Reports from Anywhere
Harness Patient Feedback to Drive Improvement
Stay Informed with Regular Status Updates and Alerts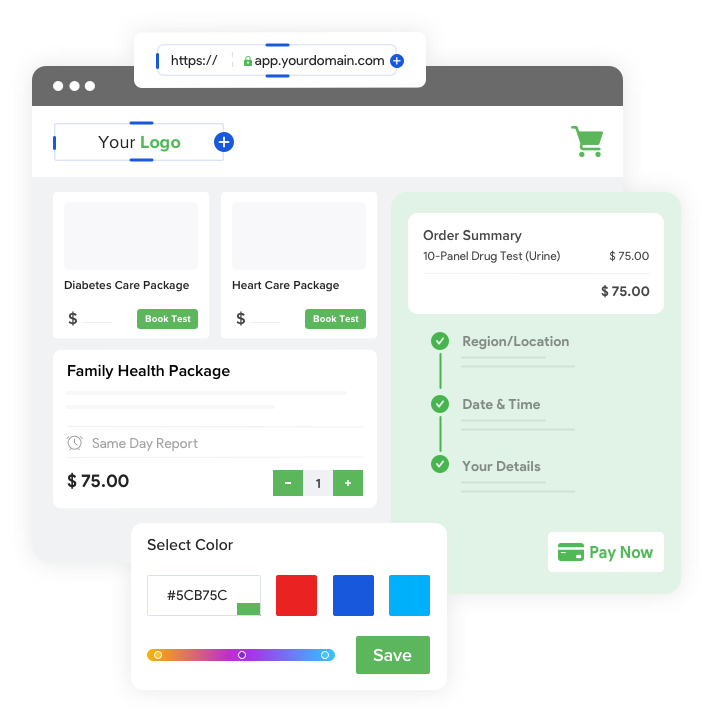 Make Your Website Your
Online Store in a Jiffy!
Convert your website into your own online store. Our patient engagement solution can integrate with your website in minutes, allowing you to promote your offerings & compete with aggregators without spending on high infrastructure costs.
Online Patient Bookings
Simplify the test booking experience with online patient engagement. Capture all important medical fields faster and without errors.
Tailored to Your Brand
Your brand is unique, and we understand that. We offer fully customizable online stores that can align with your brand's vision.
Promote Healthcare Packages!
Skyrocket bookings by promoting packages on social media and other marketing channels. Create captivating custom packages that resonate with your target audience.
Scheduling Simplified!
Streamline scheduling, increase reliability, and take control of availability. Simplify your workflow, eliminate no-shows and increase operational efficiency invariably.
How CrelioHealth Simplifies The Home Sample
Collection Process
Capture All Home Visit Requests
Take complete control of home collection orders from your lab using a dedicated dashboard. Assign phlebos as per their availability and manage them smoothly.
Assign Visits to Phlebotomists In Real-Time
Allocate phlebos for your next orders based on their real-time status, location, and availability. Understand home visit request capacity, efficiently plan and distribute their workload.
Collect Samples & Payments via Phlebotomist App
Enable phlebos to understand the order details along with area and location support, live tracking details, payment, sample collection options, and much more, all from our dedicated app.
Get Status Alerts & Live Tracking
Offer patients prompt service to track the location of phlebotomist in real-time. Auto send information like booking alerts, payment status, etc. to patients through their journey.
Here's What Our Customers Say
CrelioHealth is helping us get results electronically delivered very fast, so patients aren't waiting so long. It's also very easy for the medical assistants to access when phones ring regarding blood work.
Crelio Patient Engagement is good for automatic patient communication, speeding up report processing, efficiently checking on patients, and keeping files organized. It has improved our patient experience significantly.
Our patient experience and B2B customer experience have improved a lot after using Crelio Patient Engagement. With their white labeling for emails and SMS, giving qualitative experience to our patients is easier for us.
Deliver Exceptional Patient Services With Our Solutions That Enable end-to-end Management.
Experience the Benefits of Our Solutions for Higher Patient Satisfaction And Smooth
Patient Experience.
Contact Us for a Demonstration