A Complete Solution For Your
Reference Lab
Struggling with complex workflows, manual compliance, and integration challenges in your reference lab? Discover how CrelioHealth can make your lab a precision driven ecosystem.
Take Control of Your Lab Operations With a
Leading-edge Solution
Automate Your
Workflows
Using CrelioHealth simplify specialized workflows with automation, ensuring accurate tracking and timely processing.
Maintain Regulatory
Standards
Stay compliant with CLIA/CAP and other regulatory standards. Get reliable test results with an automated quality control.
Integrate Various
Systems
Get access to diverse selection of pre-built integrations. Connect and unify multiple systems, including EHR, RCMs, and more.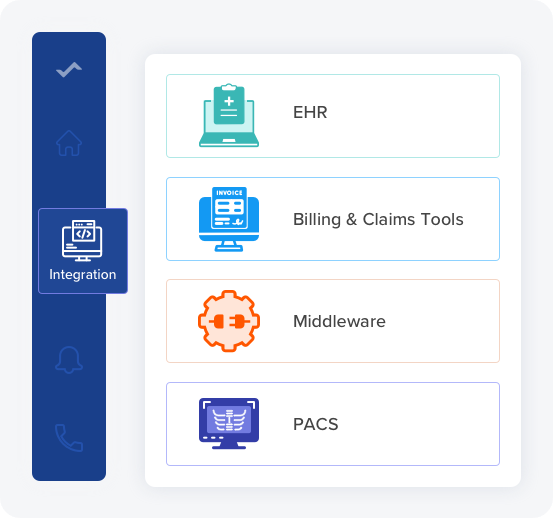 Deliver Exceptional Service With Smooth Integrations
Unlock the Integrations Maze
Eliminate the need for extensive customization and complex configurations. Simply plug & play and set a seamless communication between your lab's systems.
Focus on Your Core Tasks
Reduce stress of dealing with broken integrations and the need for constant troubleshooting. Ensure systems are in sync constantly without interruptions for focused outputs.
Connect, Collaborate, Grow with Seamless Integrations
Provider Network Integrations
With a diverse range of pre built EHR integrations overcome system limitations and meet the unique needs of your clients. Seize every prospect that comes your way and never miss out on valuable business opportunities.
Maximize Your Profits
Improve claim acceptance rates with RCM integration. Maximize revenue capture while preventing leakages due to manual errors. Experience the power of efficient revenue management with CrelioHealth.
24X7 Customer Support
Get expert assistance from our team 24x7. Simply give us a call, and our dedicated team will be ready to address your inquiries, resolve any issues, and provide you with valuable guidance.
Expand Test Menus: Multi-Modality Testing
Tailor your diagnostic offerings and unlock new opportunities for growth by incorporating testing of multiple modalities. With CrelioHealth, you can expand your business and serve a broader range of diagnostic needs.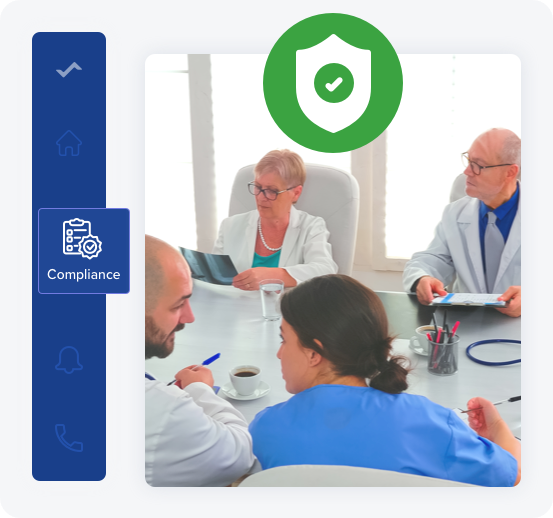 Automate & Maintain Regulatory Compliance
Simplify your reference lab's adherence to regulatory standards with automated compliance process management. Eliminate manual tasks for compliance and get free from mundane clerical work.
QC Excellence
Ensure meticulous QC management for reliable results.
Transparent Accountability
Maintain comprehensive audit trails for traceability.
HIPAA Compliance
Safeguard patient data with adherence to HIPAA regulations.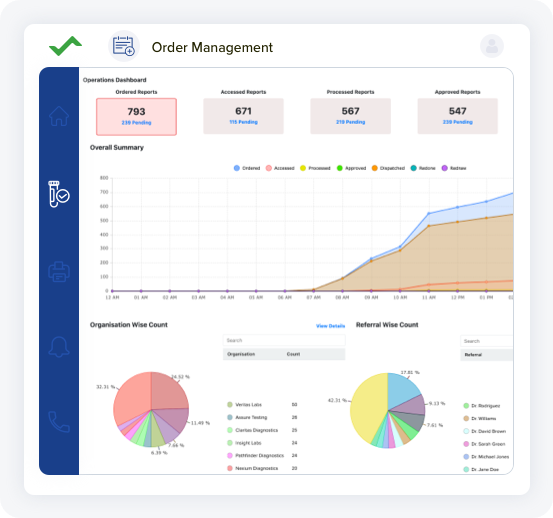 Customization, Simplified orders, and Actionable Analytics
With CrelioHealth, your reference lab can experience the perfect blend of Custom reports, streamlined orders, and data driven success.
Simplified Order Management
Eliminate phone orders and manual record-keeping. Simplify order management with provider and client logins.
Personalized Brand Reports
Create stunning, branded templates that reflect your lab's unique identity and impress your clients.
Data-Driven Decisions
Capture, analyze, and share essential information to improve reporting capabilities. Transform raw data into actionable intelligence.
What's More?
Provider
Portal
Sample
Barcoding
Scan Sample To Create Batches
Explore more ways to use creliohealth
Here's What Our Customers Say
CrelioHealth is very detailed and very informative, CrelioHealth makes almost all of the processes more accessible, and it makes sure that you will get all the information that you will need. It is one of the best cloud-based LIMS available.
Adaptable and easy to use. The integration team is very knowledgeable about their product with quick responses and easy to work with. They are adaptable and sensitive to the needs of their customers.
CrelioHealth have all features a lab need, very reliable, excellent customer support, user friendly, fast, no surprises, and very secure. Thank you CrelioHealth.
Make your Medical Diagnostics Lab Interoperable With Seamless System Integrations
Experience the Benefits of Our Solutions for Your Business
Contact Us for a Demonstration