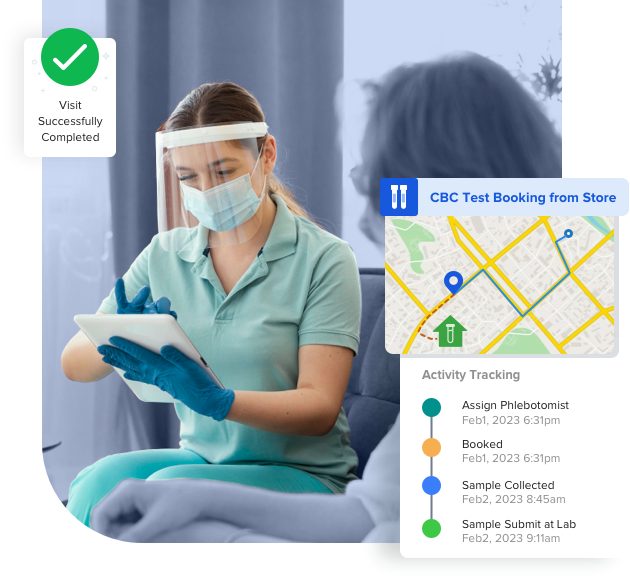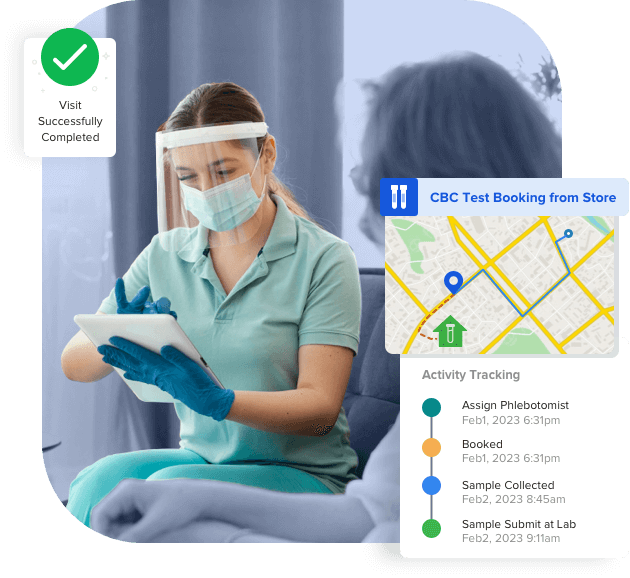 Make
Home Collection

A Hassle-Free Experience For Patients & Phlebotomists

Simplify the home visit experience with faster & easy booking, payments, live location tracking & more for patients and phlebotomists.
How CrelioHealth Simplifies
The Home Collection Process:
Single Dashboard To Manage All Bookings
Sub centers operate independently with its own test/ organisation/ referral masters, and more importantly finances are managed independently, where you want to keep billing and collections for each center separate.
Dedicated App For Phlebos
A regional hub with multiple location in same area/ city - The hub will be created as processing center and smaller centers can be branches.
Status Alerts & Live Tracking
A lab with self owned collection centers with multiple users in each collection center and want patient data searchable across all centers.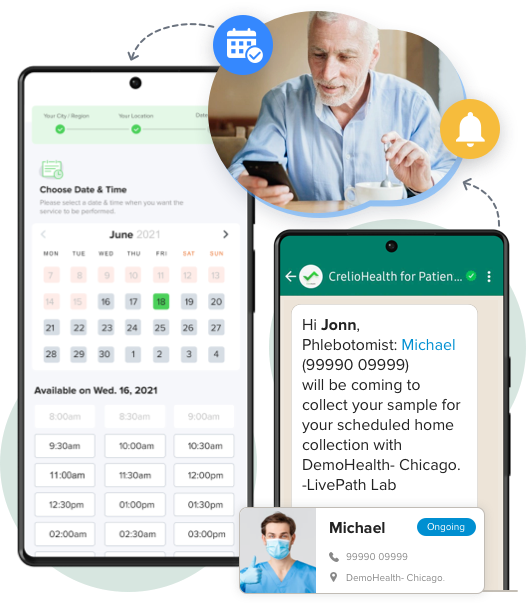 Make Home-Visits Seamless For Your Patients
Enable patients the ease & convenience to book home visit appointments & allow them to book as per their preferred time, track the process and share feedback.
Online Slot Booking
Give your patients more visibility to book appointment slots online with additional details about time, working hours, center contacts and much more.
Status Alerts & Notifications
Notify patients once the home visit is booked. Send them a tracking link to track their phlebo location with their contact details and timely alerts.
Feedback Management
Collect feedback from your patients and improve service delivery to enhance patient experience.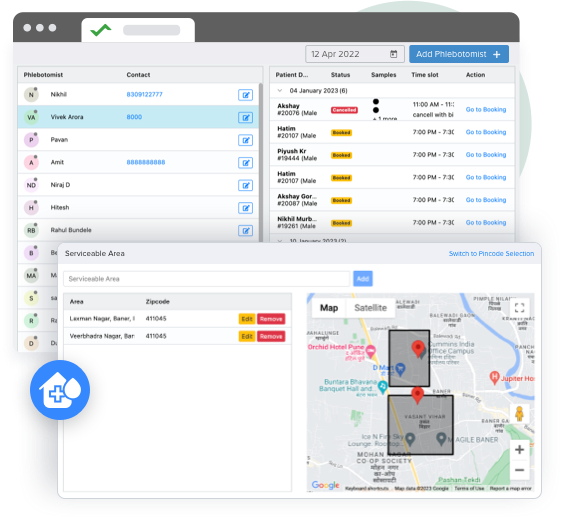 Improve Home Collection Management For Lab Admins
Help lab admins organize tasks assignments better for phlebotomists with fixed area definitions, tracking and much more.
Area & Time Assignment
Understand home visit request capacity and assign phlebos for visits with area and time specifications for better workload distribution.
Lead Management
Generate bookings with just patient details where tests can be added by phlebos on-site of collection.
Tracking Phlebos & Planning
Identify the status of phlebos wrt time, location and availability with tracking for effective planning and allocation for next orders.
Offer Better Control To Phlebotomists
With An All-Powerful App
Allow your phlebos to manage the home collection visit experience on their fingertips by
helping them with orders efficiently.
Smart Phlebo Assignment
Assign a list of tasks to your phlebos and schedule their timeline as per their availability and region.
Order Updates
Allow easy updation & corrections about order registration with edit options.
Payment Collections
Collect payments & generate bills easily from the app.
Exact Location & Navigation
Offer them maps & navigation details about their current order with live tracking capabilities.
Relative Booking
Book & manage tests for relatives anytime hassle-free.
Sample Collection
Enter sample details and acknowledge samples from a single app conveniently.
Solution That Matches Different Lab Size
Our home collection solution is designed to match the requirements & complexities of both
a standalone local lab size as well as a multi-center labs catering different.
Standalone Local Labs
Booking Experience
Incentive Calculation
Multi-Center Labs
Phlebo Assignment As Per Area & Time
Phlebo Tracking
Phlebo App
Co-ordination Through A Single Dashboard
Explore more ways to use creliohealth
Transform The Home Collection Experience
For Your Lab
Contact us and we will demonstrate how our solutions
will improve your business