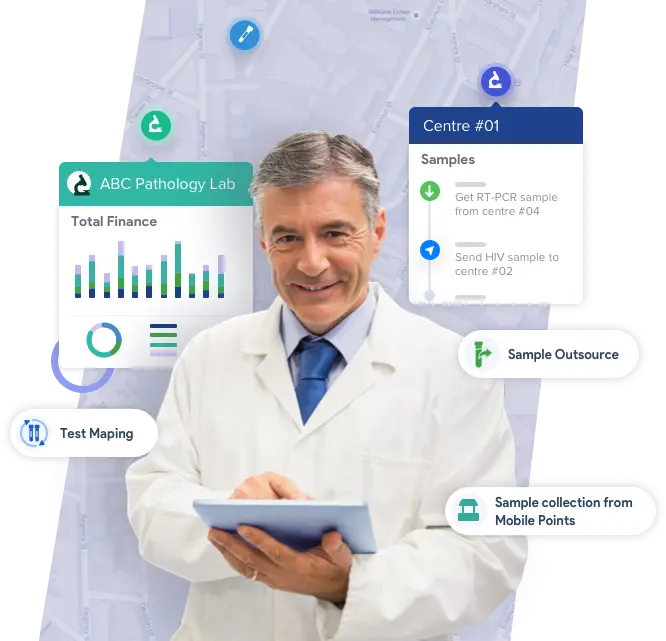 Effortless
Multi-Center Lab Management
Have full advantage of multi-center lab management with minimal navigation and more productivity through easy, central access and control for all centers effectively.
Types Of Multi-Centers Lab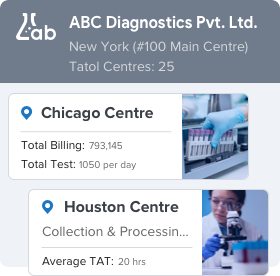 Sub Center
Sub centers operate independently with its own test/ organisation/ referral masters, and more importantly finances are managed independently, where you want to keep billing and collections for each center separate.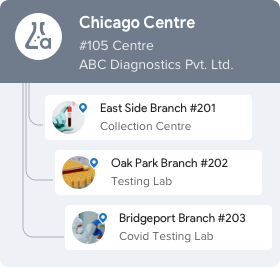 Branch
A regional hub with multiple location in same area/ city - The hub will be created as processing center and smaller centers can be branches.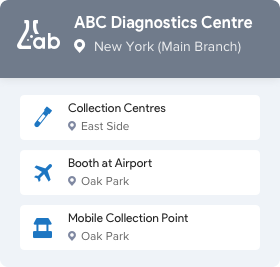 Collection Center
A lab with self owned collection centers, with multiple users in each collection center and want patient data searchable across all centers.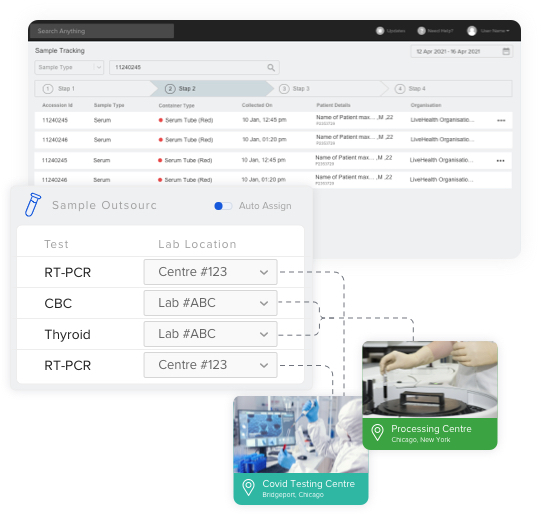 Streamline Operations With Full Visibility & Control Aligning Different Centers
Manage sample workflows and automations for multiple locations without any technical complexities. Identify metrics to monitor performance and optimize key processes. Experience greater flexibility and control over data and system across your multi-facility organizations.
Single Logins
Single logins to switch between centers, manage lab operations seamlessly across locations, from desktop or even your mobile device.
Automated Batch Transfer
Transfer lab samples automatically for multi-location lab management, keep track of sample batches across centers and eliminate re-entry of patient data on the system with just a few clicks.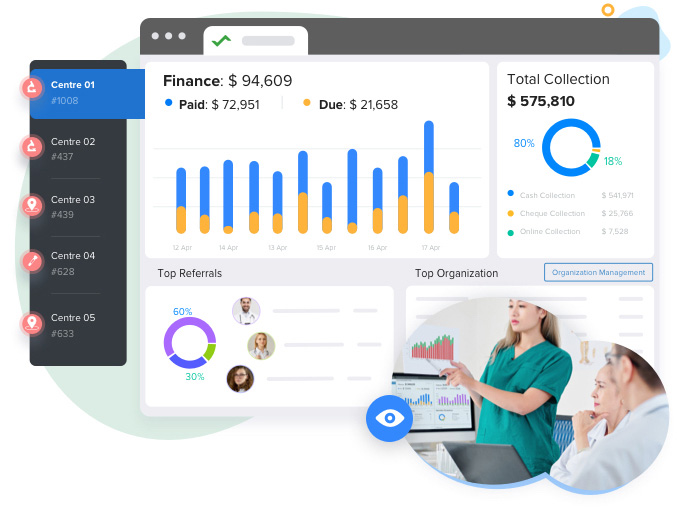 Identify Financial Whereabouts & Monitor From A Single Place
Multi-center lab finance management helps you to effortlessly track overall, end to end finance of all centers and departments in real-time from a single dashboard.
Multi-Center Finance Dashboard
Manage finances of all centers from one place, with net receivable and total sales visible in one single place.
Real-Time Finance Report View
Get dynamic view of your finance data regarding billing, insurance and other financial ends with filters & advanced search for quick & real-time lab finance tracking.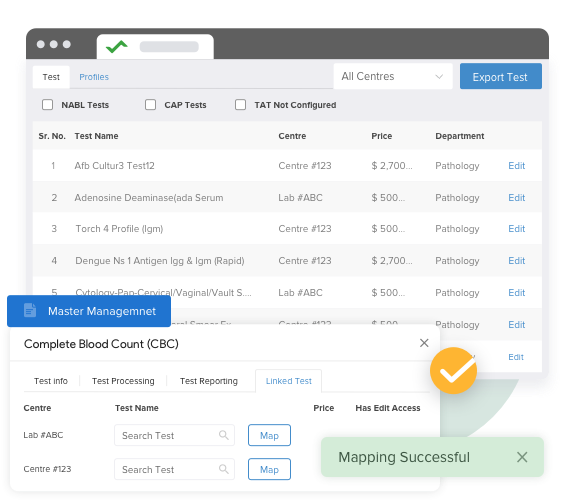 Manage All Test Information Centrally
Find all test related information well mapped and combined in a single, central place for centralized lab test management that facilitates quick access and manageability.
Central Mapping Of Lab Tests
Consolidate mapping all test information, provider information test prices across all location to a central location to create a central master list of all your test masters.
Centralized Lab Test Master Management
Sync up your test masters & formats for all locations easily and manage from one central location.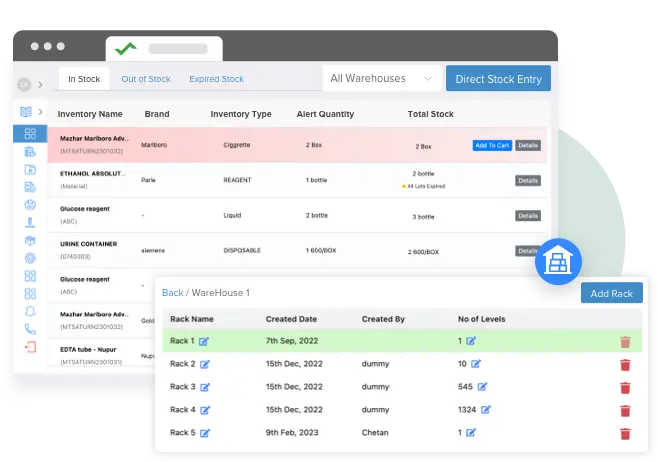 Manage Inventory Centrally
Access inventory information for all lab locations via a single dashboard enabling easy & centralized lab inventory management control. With multi-center lab inventory dashboard tracking stock across all organizations is effortless.
Warehouse Management
Create as many warehouses for multi-location labs as you want under your inventory store with options to create racks within each warehouse for storing the information related to specific location.
Powerful Dashboards To See Entire Picture At Once
Capture data from all labs simultaneously and share unified reports for more accurate and efficient decision making. See multiple facilities on a single dashboard with expanded visual of results across multiple locations.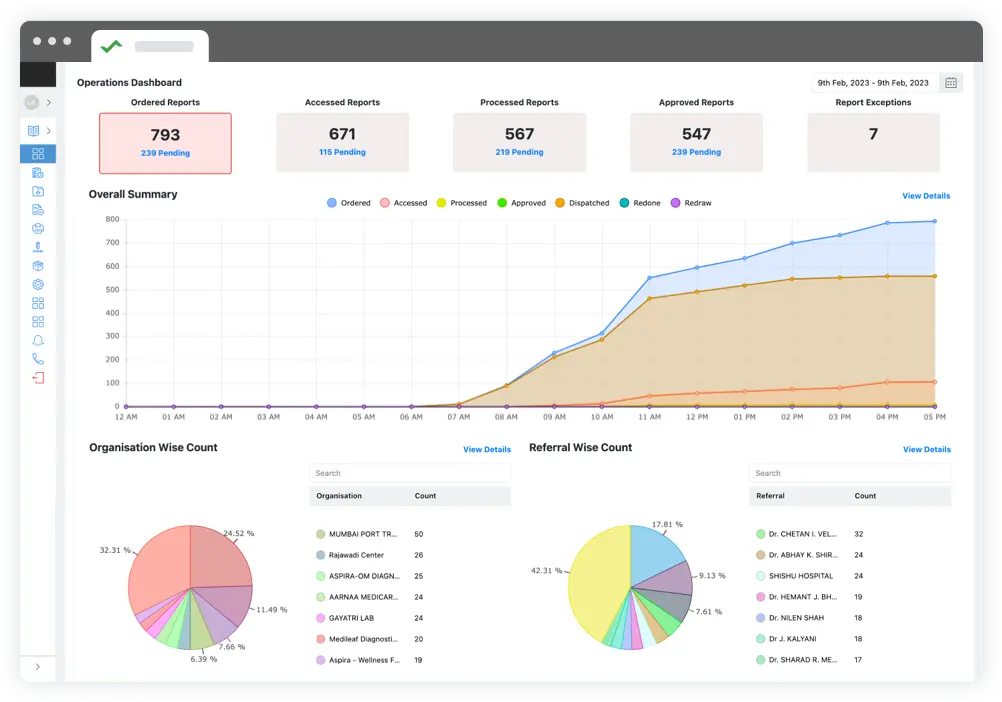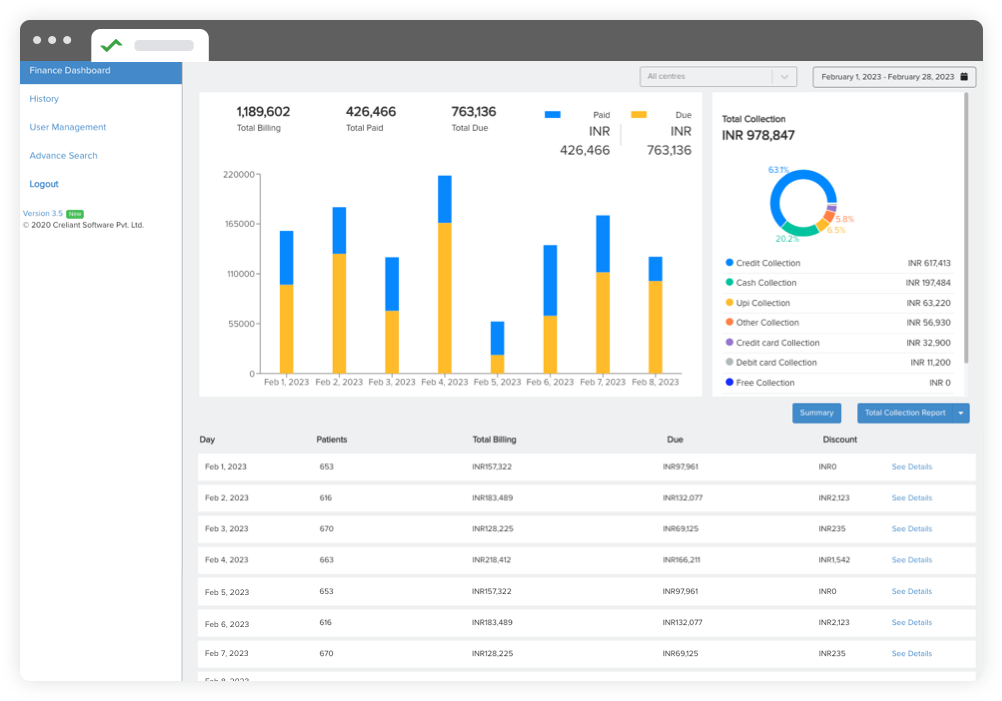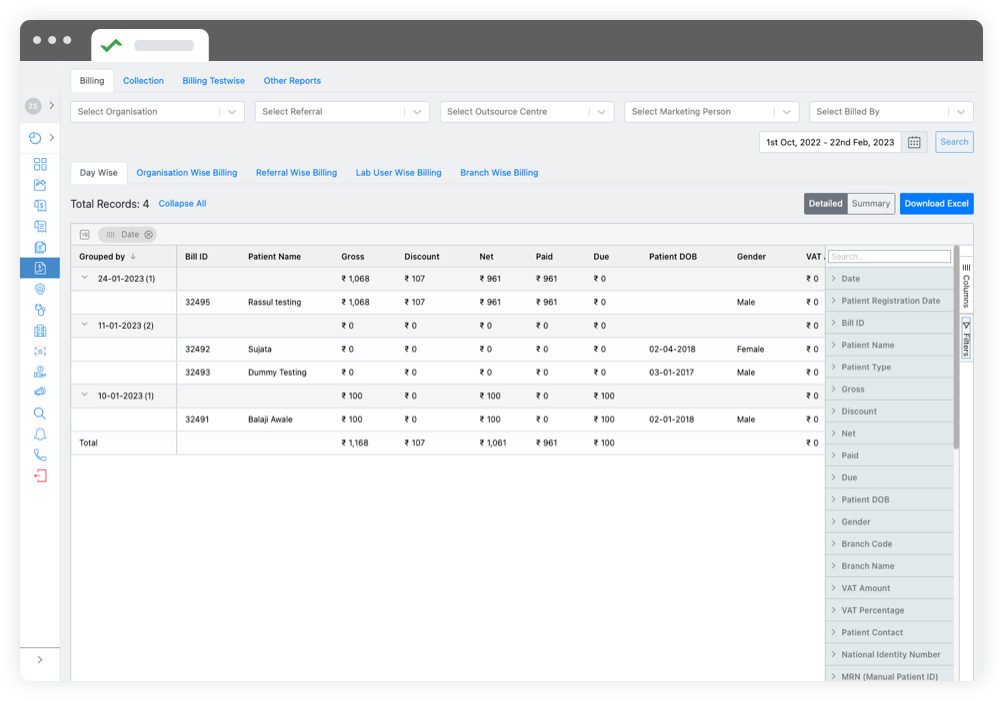 What Our Customers Often Say
CrelioHealth LIMS solves the problem for our lab using the multi-center management with Parent login where we don't have to login into accounts separately and in only CrelioHealth login, our operations and finances are managed easily.
The multi-center management is super easy to access and manage. It also helps us manage our finances and reports easily.
We have multi centers and managing multicenter is difficult but with CrelioHealth we are able to link very easily and out source test which are done in main center not in child center.
Explore more ways to use creliohealth
Boost Your Lab's Productivity With Smooth
Multi-Center Lab Management
Our expert will demonstrate how our centralized laboratory management solutions will improve your multi-center lab business. Contact us now!