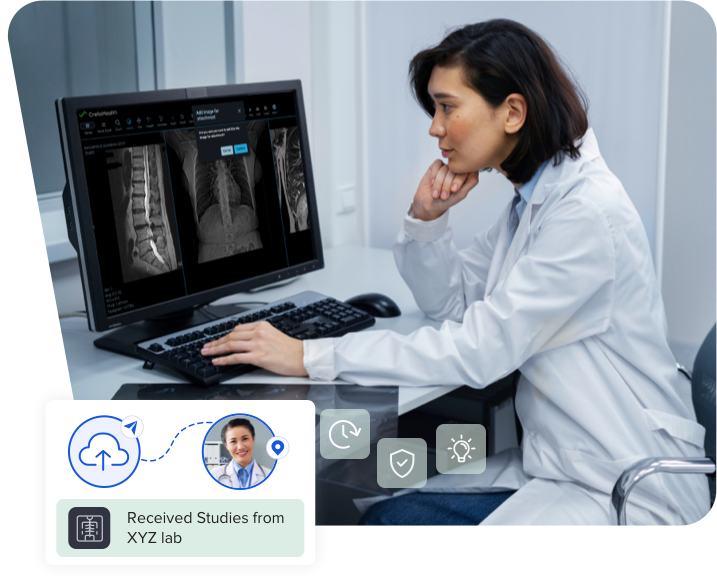 Unfolds The Smartest Way To
Radiology Reporting

& Workflow Management

Manage radiology operations smoothly with Radiology Reporting Software that provide seamless reporting with dynamic templates, intelligent snippets, and much more. Leverage the reliable automated solutions for simplified Radiology Workflow Management to significantly reduce overheads for all staff and all stakeholders.
Crafted Radiology Software Solutions Dedicatedly
for Complete Radiology Management
Unparalleled Radiology Workflow Optimization
Enable high work productivity with no bottlenecks, minimal radiology TAT & errors using our smart radiology patient scheduling software.
Convenient & Reliable Data Management
Through RIS PACS Software, manage large volumes of patient data with lossless compression, high accuracy, & security for storage, accessibility & sharing.
Quick Communication & Collaboration
Build a smooth communication amongst radiologists, providers and patients with secure and easy radiology reporting online; elevating patient satisfaction.
Radiology Management Software For
Exceptional Reporting And Sharing Capabilities
Empower your lab with the smooth Radiology Information System Software (RIS) integrated with PACS that
offers dynamic radiology reporting templates, snippets and customizable formats; with lossless sharing & distribution.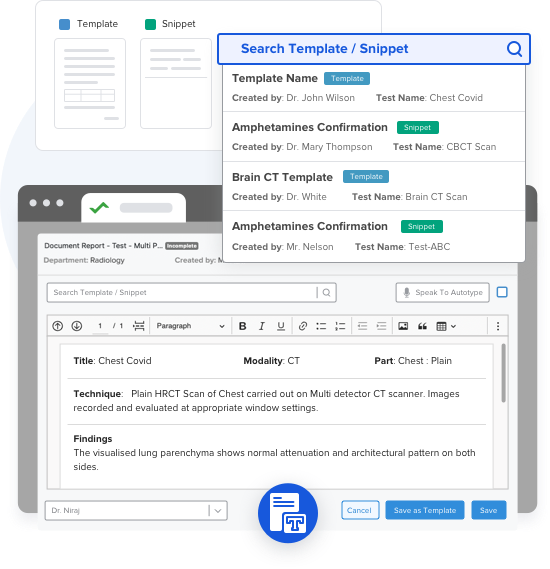 Easing Radiology Reporting Like Never Before
Ease the radiology reporting & management process online for all stakeholders using the Radiology Reporting Software, eliminating overheads over scans throughout the radiology experience.
Dynamic Templates & Intellegent Snippet
Dynamic radiology reporting templates & snippets are easier than ever, which allows you to personalize the report view. The pre-written texts based on keywords and speech-to-texting reporting capabilities enhance the process further without delays.
Custom Radiology Report Formats
Customize radiology report formats using pre-built templates with ease of editor options and no character limits. With our Radiology Report Software doctors can smoothly eliminate the burden of new format setup every time and speed up radiology reporting.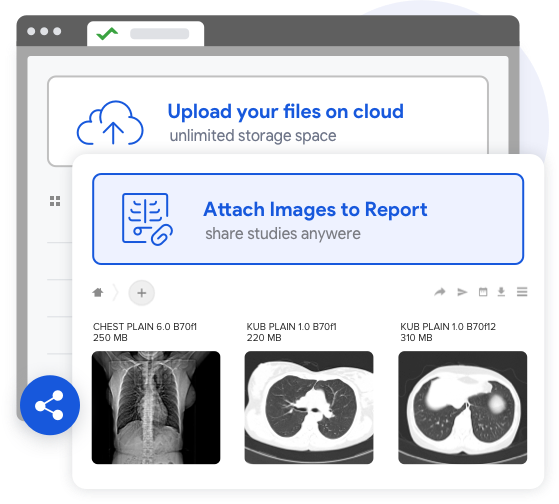 Radiology Workflow Integrated With PACS
Through RIS PACS software integration, analyze, diagnose, and share patients studies from multiple modalities anywhere, anytime through your browser saving highly on radiology TAT.
Digitally Available Images
Our radiology workflow management for PACS allows doctors & radiologists to view imaging scans digitally using a web-based DICOM viewer.
Lossless Image Upload & Transmission
Radiology Information System (RIS) integrated with PACS enables seamless uploading of high-precision images & studies within a few seconds/minutes for accurate diagnosis.
Effortless Sharing & Distribution
Radiology Management Software provides workflows that use a link to share studies with radiologists, surgeons, doctors & patients without film printing or other overheads.
The Most Agile RIS PACS Software for Medical Imaging Management
3X
Most Storage Capacity
90%
Less Cost For An Avg. Study Size
0.24Sec
To Upload A Single Image
Unparalleled Radiology Lab Management Experience
Empower Radiology Lab Management effectively using the most powerful radiology scheduling software that provides smooth order management abilities, and report research & analysis skills.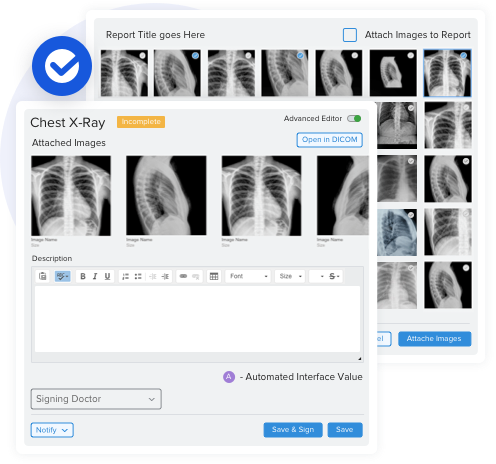 Unmatched Benefits of Radiology Lab Management
Streamline processes from radiology appointment scheduling to reporting and sharing, at your radiology lab with automation to reduce operational & reporting TAT.
Doctor Assignment & Management
Our Radiology Software Solution helps you to assign doctors for specific cases easily, manage doctor-approved report count, and handle finances & revenue all from a single place.
Remote Reporting
Cloud-based Crelio PACS with Radiology Information System (RIS) offers accessibility from anywhere, facilitating doctors with remote reporting and tele-reporting benefits.
Image Viewing & Management
Our Online Radiology Reporting Software with PACS allows open study in DICOM viewer while reporting. It can also attach images for scans, on the patient portal without storage management overheads.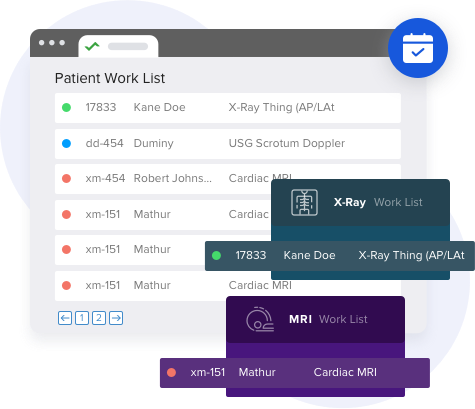 Manage Bookings Seamlessly With Automated Control
Manage daily orders for online & walk-in appointments and eliminate redundant manual efforts through the most efficient Radiology Patient Scheduling Software.
Appointment & Scheduling
Set control over online bookings as per time, working hours, and holidays. Manage all types of appointments and scheduling with time-based auto-discount controls.
Worklist Data Management On Machines
Crelio Radiology Scheduling Software sends worklist data directly to your machine and eliminates manual data entry in the machine during a patient visit.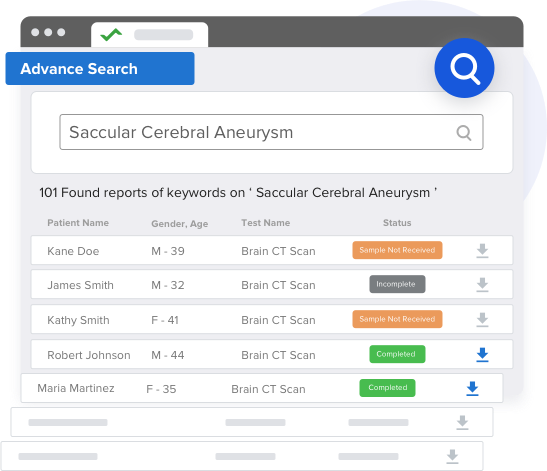 Advance Support For Report Research & Analysis
The Best Radiology Software to enhance research using radiology reports and have analytical and meaningful information at your fingertips.
Boolean & Advance Report Search
Search via any keyword across the radiology report or add advanced filters as per date or criteria for unmatched accessibility and improve research and analysis of past cases.
Export Results
Export bulk reports simultaneously using Radiology Software with advanced search options and filters to enhance radiology studies over various demographics.
Additional Radiology Reporting & Management Software Benefits
Custom Report Formats
Link-Based Faster Sharing
Secure Communication
Inbuilt Feature-Packed Di-com Viewer
Secure Patient Registry
Consent Based Sharing & Deletion

Types Of Modalities We Support In Our Radiology Reporting Software For A Seamless Reporting Experience
CT Scan
PET Scan
X-Ray
MRI
Sonogram
Fluoroscopy
Nuclear Medicine
Angiography
Explore more ways to use creliohealth
Make Your Radiology Lab Smarter Than Ever With Custom Reporting, Easy Sharing & Analysis Advantage
Step aside from all the radiology lab hassles with the most simplified and easy-to-use Radiology Management Software. Leverage easy reporting, sharing and distribution across your network using Radiology Reporting Software integrated with cloud PACS. Connect with our RIS PACS Software expert to get a live demo of our most trusted solution.