All Your Patient Bookings In One Place
Our advanced software for Diagnostic Centers optimizes all front-desk operations, from patient registration to sample collection. Diagnostic Center Management Software offers a hassle-free experience for your laboratory, enabling you to effortlessly maintain workflows from start to finish using a single platform. Our software provides various features, such as customizable forms, automated communication, and seamless integration with online payment systems, ensuring a convenient experience for both your B2B partners & patients.
Configurable Forms For Patients & Orders
Email, SMS & WhatsApp Communication To Patients
Multiple Configurable Rate Lists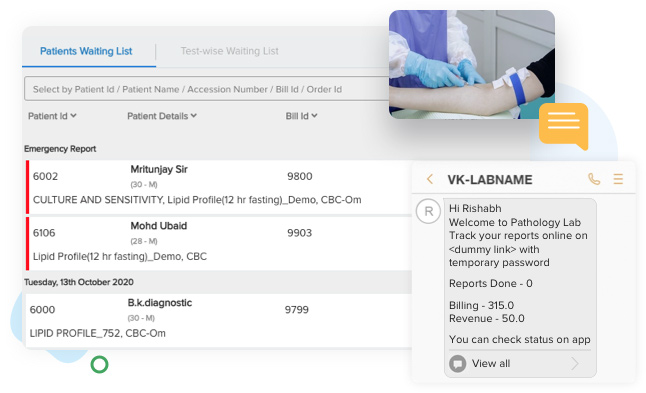 Tap & Collect Samples with Process Automation
In order to ensure efficient processing of order requests, it is vital to collect samples in a standardized manner. This can be achieved by following the guidelines and instructions outlined in the B D Vacutainer collection guide. You can also use the Diagnostic Center Management Software's sample automation and preset feature to conveniently collect samples at the center.
Collection Vacutainers Based On Test & Sample Type
Define Collection Instructions For Your Staff
Prompt Important Instructions For Critical Tests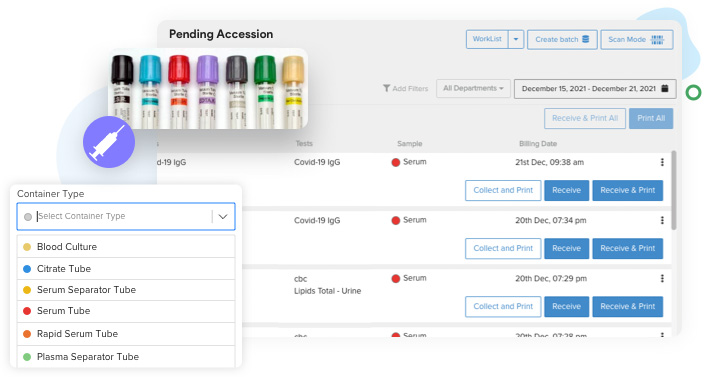 Ease Your Test Sample Accessioning
Printing and labeling samples with barcode labels are essential for various purposes, including identification, segregation, outsourcing, and archiving. Barcode labels enable quick sample quality evaluation and facilitate acceptance or rejection decision-making. Additionally, you also have the option to simply scan the barcode and receive the sample at any location you choose.
Segregation & Quality Checks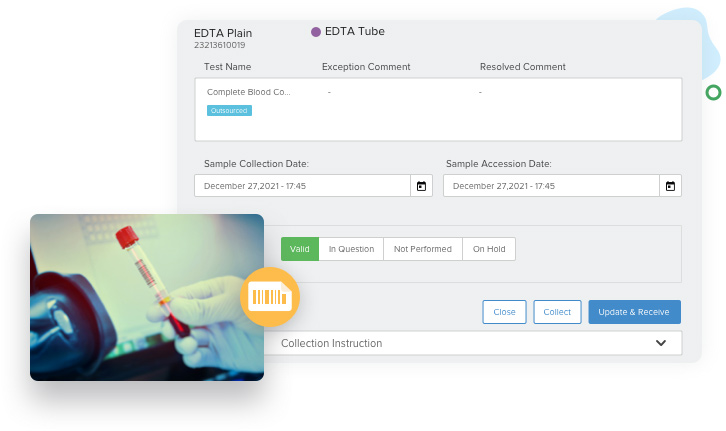 Streamline Sample Processing
In order to increase efficiency, reduce expenses, and improve accuracy, it is essential to streamline and automate the sample processing procedures in laboratory testing. A Diagnostic Center Management System is a powerful solution for efficiently tracking samples and improving lab turnaround time management.
Turnaround Time Management
Complete Process Automation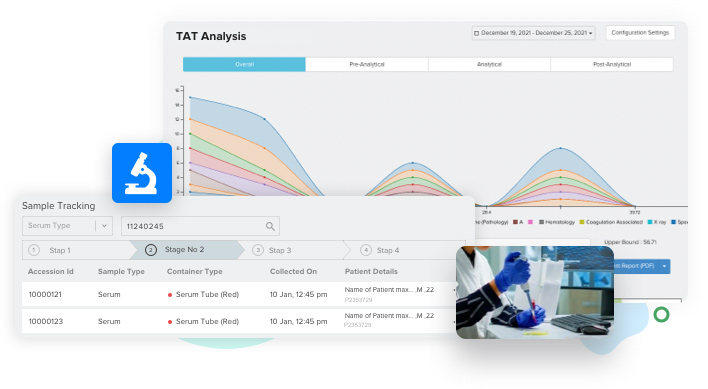 Quick & Easy Lab Reporting
Simplify entering test reports with our efficient and easy-to-use reporting system. This functionality enables you to collect all essential patient data in our Diagnostic Center Management System, which is crucial for generating accurate reports. Moreover, we provide automated reporting via interfaces, various test templates, the option to input report values in bulk using Excel, and even speech-to-text report entry.
Automated Reporting Using Interfacing
Multiple Templates For Tests
Bulk Entry Of Report Values Using Excel
Speech-to-Text Report Entry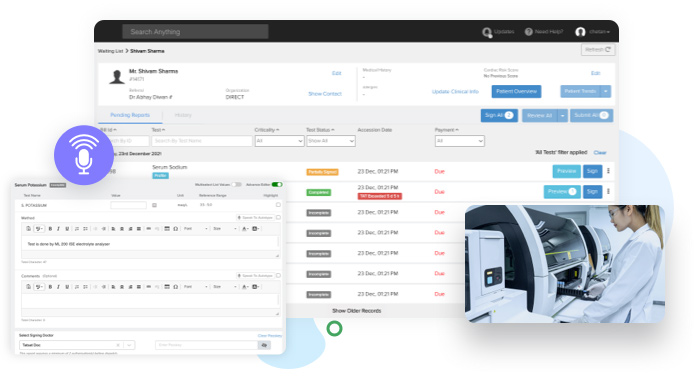 Secure & Reliable Lab Report Approval
In order to ensure that your patients receive accurate lab reports, it is crucial to implement a standard approval procedure while ensuring timely delivery. To achieve this, you can allow signing physicians the ability to authenticate and validate reports through secure logins on the Diagnostic Center Software or the dedicated Doctor's App. By doing so, you maintain professionalism and accuracy within your medical practice.
Conditional Automated Approvals
Approve Reports On The Go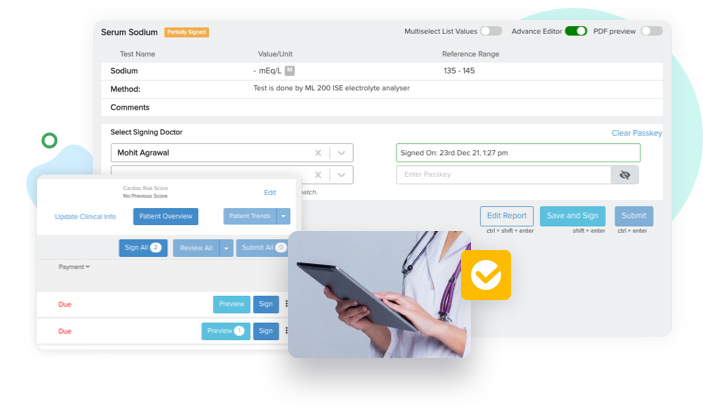 Make Sure Lab Reports Are Delivered on Time Consistently!
Our advanced Diagnostic Center Management Software is designed to ensure the timely and efficient delivery of lab reports to patients and healthcare providers. With robust tracking capabilities, it allows you to monitor the status of sent reports and implement measures to enhance the speed of report delivery.
Automated Report Delivery
Read Statuses For Delivered Reports
Bulk Report Print And Download