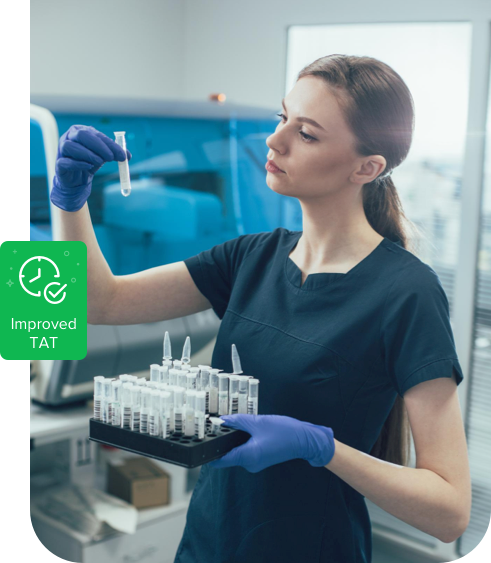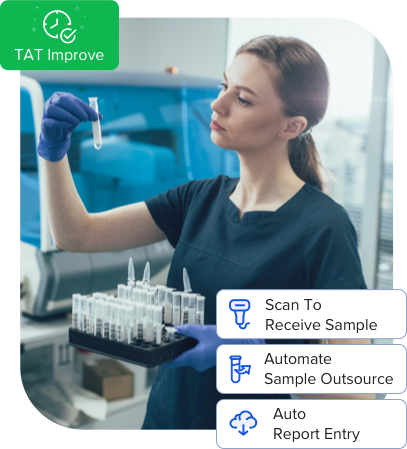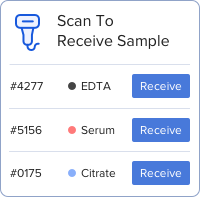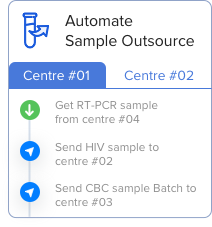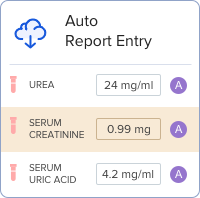 Automate Your
Blood Chemistry

Lab With Future Ready Solutions

Experience precise results, personalized insights, and convenience with automated, customizable, and all-in-one blood chemistry test software that enhances the patient's overall experience.
Resolving The Complexities of Blood Chemistry with
Best-In-Class Blood Chemistry Analysis Software
Easy & Customizable Workflows
Easily configure workflows that involve instruments and technicians, allowing seamless automation of processes. This ensures accurate sample processing from start to finish without interruption.
Better Quality
Control
It is essential to ensure that testing and test results are accurate and reliable. Our system provides comprehensive features to enforce the necessary standards to maintain consistency and compliance.
Automated
Communication
Effortlessly automate communication between stakeholders and share results with clinicians, healthcare professionals, patients, and other relevant parties using a reliable & secure platform.
Transform Lab Operations with Blood Chemistry Automation
Error-free operations with a minimal manual intervention using barcoded sample management and
interfaced systems for accurate information transfer.
Smooth Equipment Interfacing
Seamless interfacing support provided by our Blood Chemistry Lab Software ensures easy and accurate data transfers between blood chemistry equipment, LIMS, and other systems. This reduces the risk of human errors.
Easy Sample Accession
Print & label samples with barcodes to identify, segregate, outsource, and archive samples. Decide which samples to receive or reject based on your quality criteria. Quickly scan barcodes to receive samples at any location.
Automated Sample Transfers
Transfer samples automatically across different lab locations, keep track of sample batches across multiple centers, and eliminate the need for manual re-entry of patient data on the system with just a few clicks.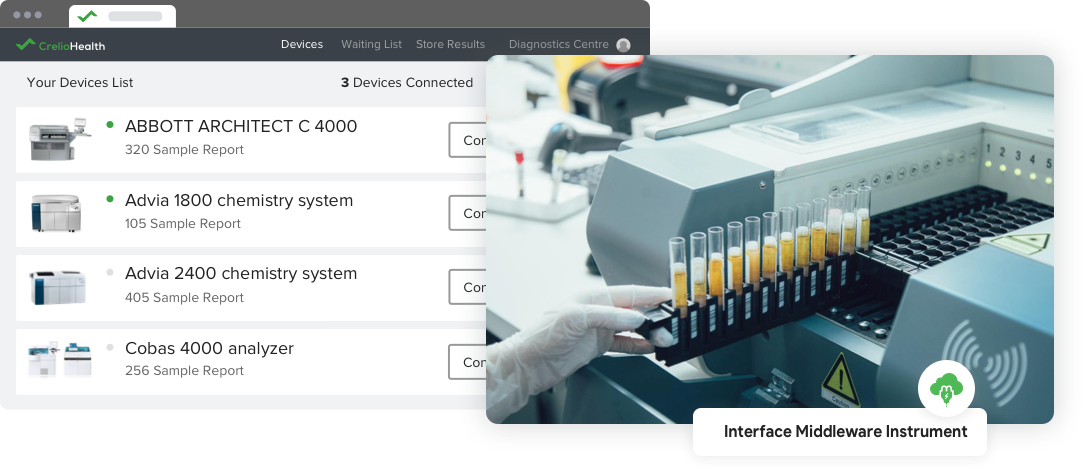 Interface Instruments
Manage Sample Load
2X
Automate Report Entry
Increase Productivity By
5X
Flexible, Customizable & Easy Blood Chemistry
Reporting on The Go
Leverage the reliably functional blood chemistry analysis software that offers custom report formats for your blood chemistry lab. Utilize the most flexible options for your staff to access, manage and deliver reports and analyze
them faster & effectively, with no post-analytical hassle.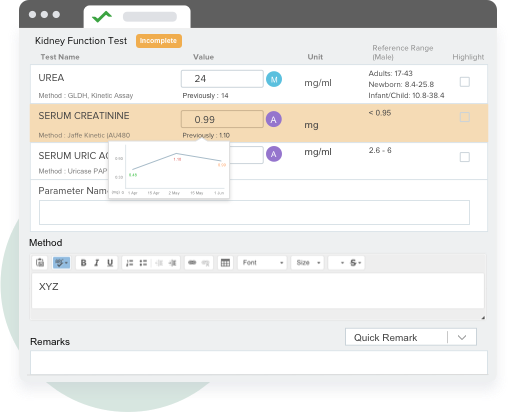 Comprehensive Blood Chemistry Reporting & Management
Upgrade the reporting experience for technicians with customizable options, dynamic report snippets, configurable templates, and more.
Configurable Report Templates
Our Blood Chemistry Lab Automation System offers ready-to-use templates and on-the-go configurable templates for easy reporting for your staff.
Intuitive UI For Report Entry
User-friendly test result entry and management with an easy-to-use interface minimizes errors and saves time, making the process quick and error-free.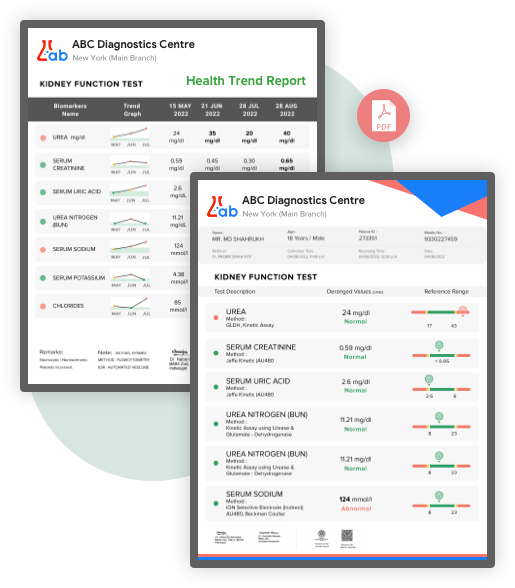 Smart Report Trends Make Blood Chemistry Result Interpretation Easier!
Offer doctors and patients a comprehensive understanding of every blood chemistry report with simple explanations, graphical representations, color codes, value-added tips, and much more.
Historical Trends Report
Evaluate the change in patient results over a series of tests or over time & identify potential threats to the patient's health. Use trends report to monitor patient's health & track treatment effectiveness.
Smart Reports
Make comprehensive lab test reports with graphs, blood chemistry test results charts, and easy-to-understand diagrams in simple, patient-friendly language with color codes and tips.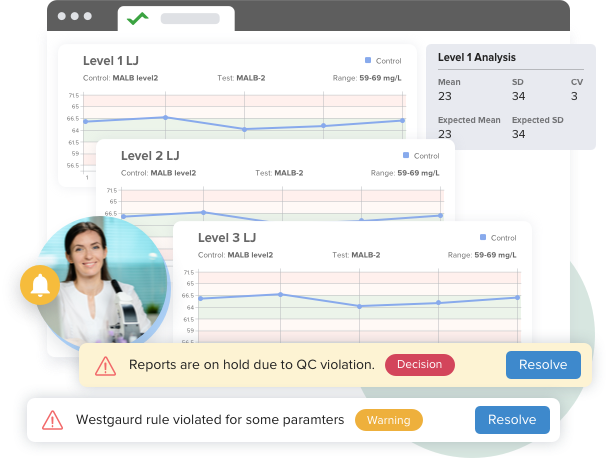 Maintain Blood Chemistry Report Accuracy & Quality Always!
Our Blood Chemistry Lab Automation System provides top-notch quality in reporting for higher report accuracy and enables auto-approval for within-normal range results to improve TAT
Auto-Approval
Get blood chemistry results that fall within the system-approved range, reducing redundancy and workload of doctors & staff.
Quality Control
Get blood chemistry results evaluated as per the quality standards, & in case of errors, the system flags the results for re-processing.
Alerts For Rejection/Redraws
Quickly identify, send alerts, and resolve rejected samples by notifying patients and clients of the redraw required.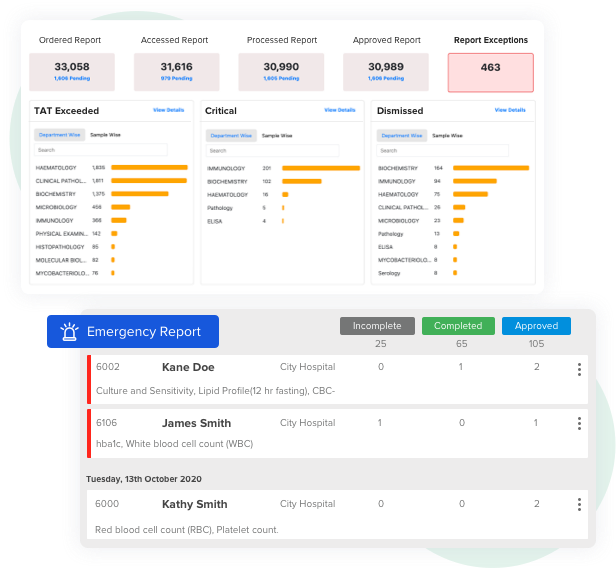 Extensive Analytics For Quick
Decision Making
Monitor causes of delays and track bottlenecks in your operations in real-time looking at analytics and highlights to make quick decisions.
Analytics & Dashboard
Monitor workflows with better visual, blood chemistry test results charts and traceability in processes to fix delays and hassles in your operations using real-time analytics and dashboards.
Critical & Emergency Highlights
Respond faster and allow doctors to take immediate action for critical and emergency blood chemistry results with automated highlights and improve patient care.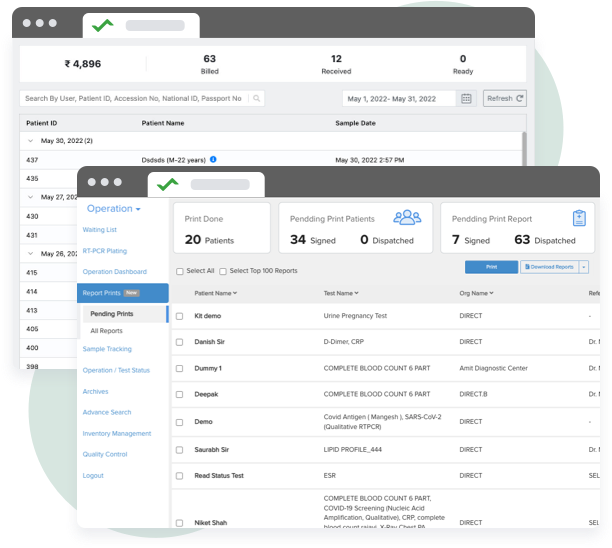 More Ways to Access & Dispatch Blood Chemistry Lab Reports to Stakeholders
Make reports accessible to doctors & patients right when they are ready, get read status, and take better actions for faster report delivery to stakeholders.
Secure Logins For All Stakeholders
Enable doctors and patients to view reports hassle-free using secure logins on the provider & patient portal or via mobile apps for doctors and patients.
Report Read Status
Verify patient preferences for blood chemistry report delivery over various channels like email, WhatsApp, or SMS using the read report status option.
Bulk Report Printing
Utilize the bulk printing feature to manage the requirement of physical copies of reports and group blood chemistry reports per any category or organization.
Post Analytical Automated Blood Chemistry Test Improves Accuracy, Efficiency & TAT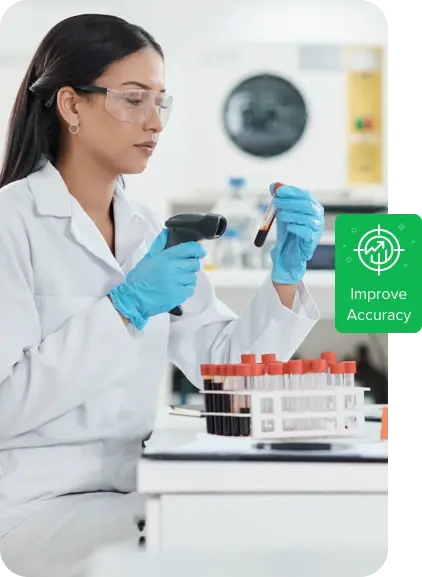 SOPs & Quality Control

Improve Accuracy By Up To
67%
Auto-generated results & Auto-approval

Save Reporting TAT Up To
90%
Analyzer Interfacing

Minimize Manual Errors To
3x
Digital Delivery Of Reports

Reduce Waiting Time By Up To
30 mins
20–30% of overall reduction can be seen in TAT because of reduced efforts in registration of samples from source and ease in delivering report through auto-generated push notifications on mobile app and emails.
Mr. Kiran Gosavi
Millennium Special Lab Pvt. Ltd.
More Benefits of Blood Chemistry Lab Automation
Along with the previously mentioned benefits, our Blood Chemistry Software
offers several other advantages.
Third-Party
API Integrations
Detailed
Worklist
Inventory Management
Mobile App For Lab Management
Barcoded
Sample Labels
Sample Archival
What Our Customers Often Say
The sample collection part is super easy and helpful. The collection part with CrelioHealth is easy with Preset Instructions & Prompts.
The customizability of the system and automation of tasks increased my efficiency.
We like the report customization and Smart Report that helped us a lot. We like the digital reports getting to our patients in real time Email,SMS and Whatsapp.
Explore More Ways To Use CrelioHealth
Make Your Chemistry Lab Future Ready With The Most Trusted Blood Chemistry Software
Discover the advantages of our Blood Chemistry Lab Software with a free demo. Our team of product specialists will assist you in understanding the extensive features our software has to offer. Contact us to unlock the possibilities of our LIMS for blood test labs.